Evoshare – How To Save Money On Hotels, Dining, and Other Stuff When Shopping Online!
What is Evoshare!
Evoshare is a chrome browser extension and app that acts like a cashback service that allows shoppers to earn cash back when shopping online much like Ibotta's, or Capital One's! All you have to do is install the chrome extension, set up your account, and then you can start earning cashback on a myriad of online purchases like hotels, dining, and other miscellaneous items!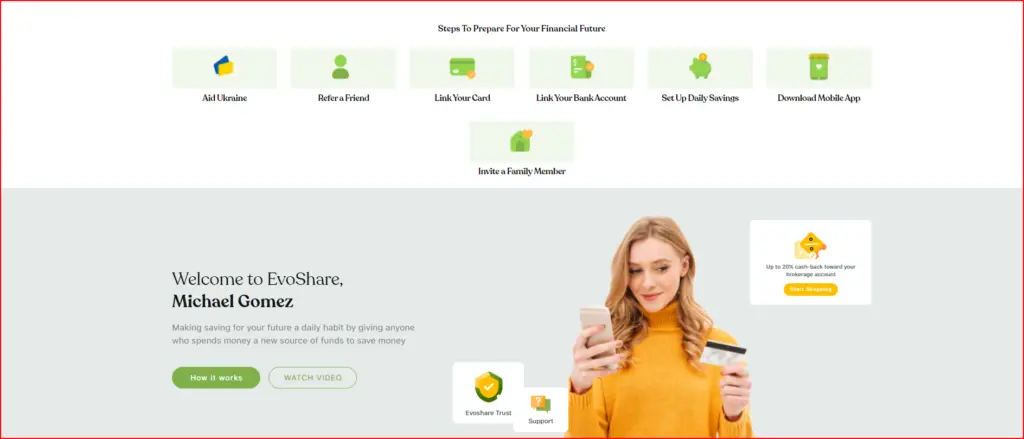 What makes Evoshare particularly unique and special is that they allow you to connect to savings accounts, investment accounts, cryptocurrency accounts, and even some loans that you can use your cashback to put towards any of these!
What does Evoshare earn cashback on?
There are a myriad of different things Evoshare can help you earn cashback on. Two of the main things Evoshare helps you earn cashback on are hotels and dining.
Evoshare Hotels
In order to find and earn cashback on hotels, you just need to click on the "Evoshare Hotels" button. Evoshare will then take you to a search engine that will allow you to find and book hotels, car rentals, and even fun things to do!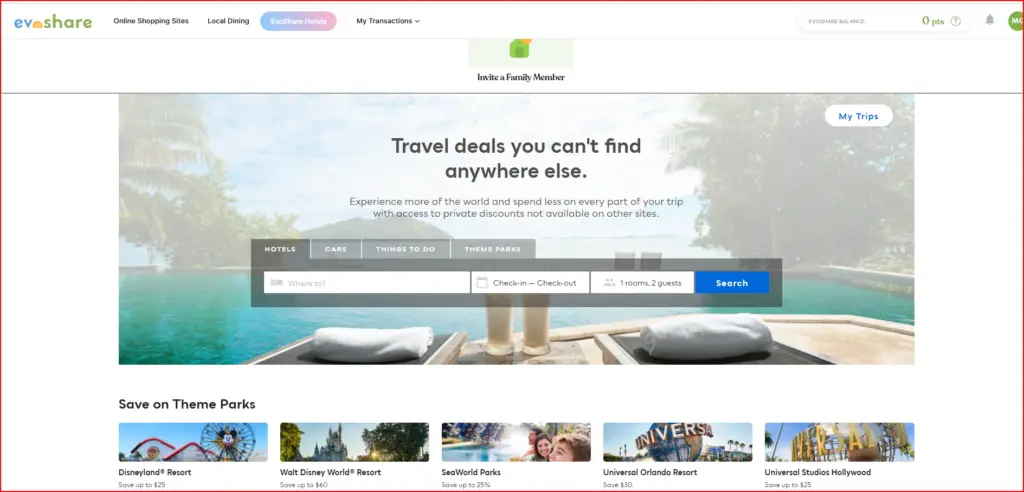 Just search for your desired location or hotel and they will display some results that even compare prices between sites like Hotels.com, Priceline, and Orbitz. After selecting your desired hotel you can see the selection of rooms they have available along with the total price and the amount of cashback you can earn when booking with them! Note: The smaller text of $3268, $5119, and etc. for 7 nights is the actual total price.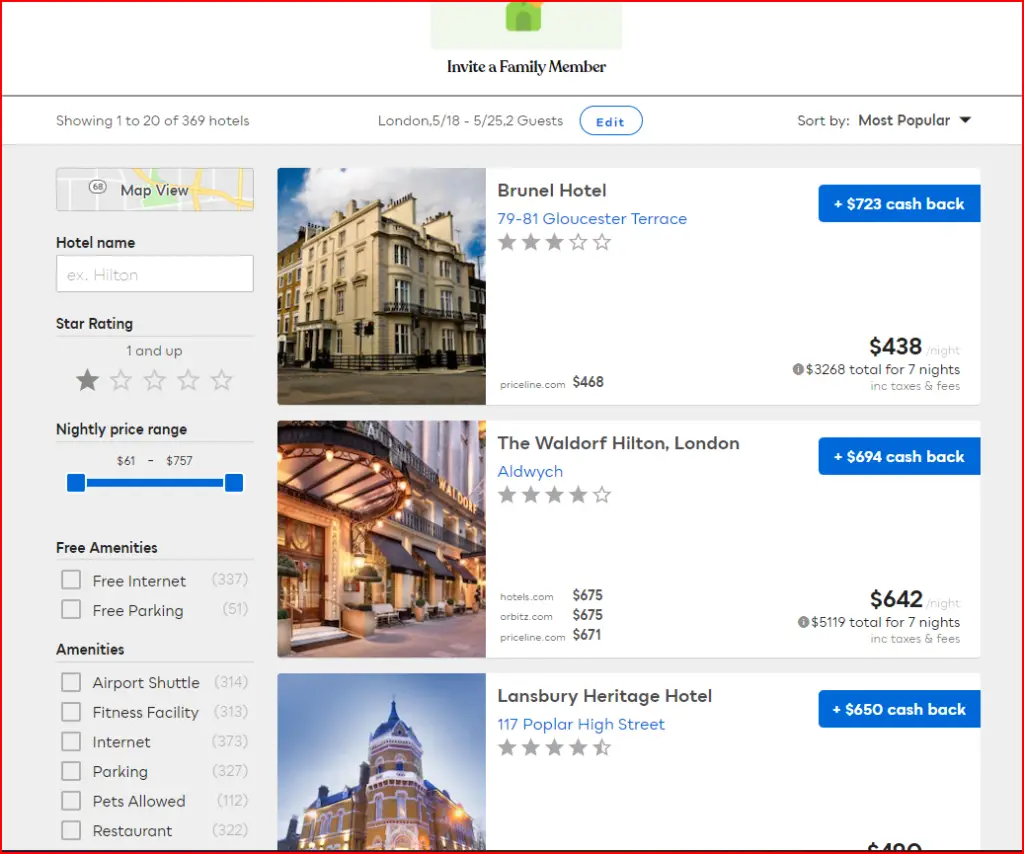 Evoshare and travel aggregator sites like Travelusave.com make it easier for people to save some money when traveling.
Evoshare Dining
They can also help you earn cashback when it comes to dining similar to apps like Upside(formerly GetUpside), or Checkout 51. All you have to do is go to the "Local Dining" part of Evoshare. In there you can search to see if there are any cashback offers on any of the dining options available in your area. Note: Some areas might not have any available cashback offerings.
In order to earn cash back on dining, you first have to link a debit or credit card to the Dining account. Note: Debit cards must be charged as credit for the offer to work. After you do that, you can search for your location and look and see if there are any cashback offerings you like.
To earn cashback on any of the dining options you first have to activate the in-store offer before you actually go and make the purchase. Then when you go to the location for the activated offer all you need to do is use the card linked to your dining account and the money will be credited to your account.
Evoshare online stores
There is also a myriad of different online stores that you can also earn cashback from when using Evoshare.
Some of the categories of product you can earn cashback on include:
Food and drink
Clothing
Financial
Health and Beauty
Home and garden
Travel and vacation
Shoes and accessories
Electronics
Pets
Educational
Some of the different online stores you can earn cashback form include:
Walmart
Target
Popcorn Factory
Wine.com
Dollar Tree
Groupon
Macy's
Kohl's
Ann Taylor
Loft
Lending Tree
Money Gram
Personal Capital
myFico
Credit Karma
Unest
Glyde
Gaiam
Lovehoney
Thesis
Planet Beauty
Framebridge
Brooklyn Bedding
Aviya
Plow and Hearth
Build.com
SmartHome
GoGreenSolar
CheapOair
FlightHub
Viator
Best Western
IHG
Hilton
Enterprise
Sea World
Bags and Bows
Posh
Zales
TimeX
Elf
Ecco
BestBuy
HP
Dyson
Gamestop
Petcube
Pet's Warehouse
Flexpet
Petco
Udemy
LingQ
Edureka
edX
And so many more brands both big and small!
Then in order to get cash back when shopping at any of these stores, simply click on the link going to any one of them. Then, they will redirect you to their page, and you can just start shopping as normal and anything you buy will earn cashback with Evoshare.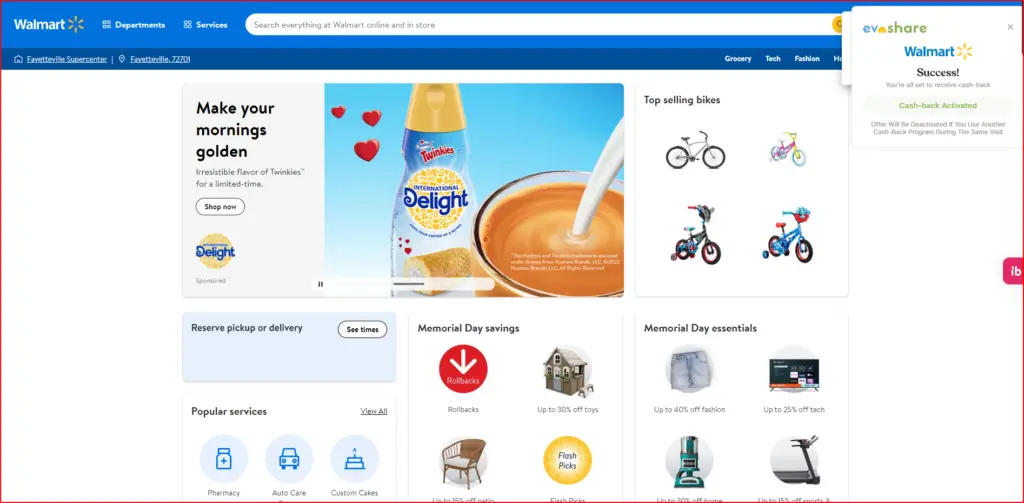 How to link your bank account to Evoshare!
In order to link your bank account to Evoshare, all you need to do is go to the account button in the top right of the website pages. Then, click on the "Bank Account" section. In order to link your bank account with them you will need to share your bank account and routing numbers with them.
Once you link your account you can do neat things like use Evoshare's "Daily Savings" feature.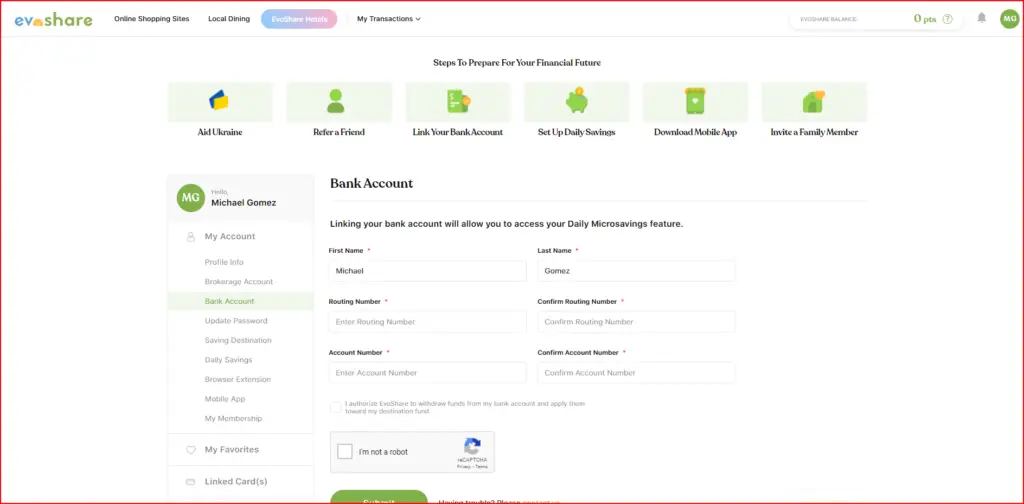 How to set up Evoshare's "Daily Savings" feature!
They has a neat little feature called "Daily Savings". This feature works similarly to other apps like Digit, Qapital, Acorn, and many others. You can start using this feature to save extra money whenever you connect your bank account to them.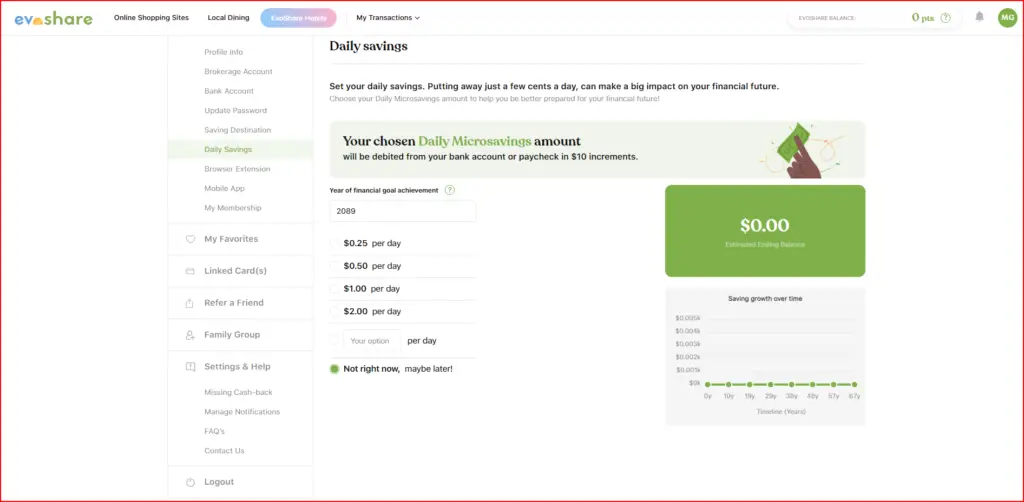 You can set the amount you want to save per day which can be as low as 25 cents per day up to whatever amount you want to set up save per day.