SingleCare – Save Up To 80% On Over 10,000 Prescriptions!
What is SingleCare?
SingleCare is a service much like GoodRx, Sesame Care, Blink Health, or others that we've talked about on this site. SingleCare like the others mentioned is a 100% FREE service people can use in order to save money on a significant number of prescriptions. They are available to be used at over 35,000 pharmacies in the US.
Some of the brand name pharmacies that you can use SingleCare at include:
CVS
Walgreens
Walmart
Rite Aid
Kroger
Publix
Safeway
Costco
How does SingleCare work?
As has already been mentioned, the way SingleCare works is extremely similar in nature to GoodRx. When using SingleCare, all you have to do is search for the specific prescription that you need to buy. Then, using SingleCare's price comparison feature you can select the cheapest and/or most convenient pharmacy from which to buy the prescription.
Then, all you need to do is show up at the pharmacy and show the "Pharmacy Savings Card" for that specific prescription. The pharmacist can then apply the coupon so that instead of paying the full price, you instead pay the discounted price offered by SingleCare.
SingleCare vs GoodRx: Which is Better/Cheaper?
The SingleCare service and their app are very similar to the one provided by GoodRx, so we will be comparing them in this post. They do share many similarities. One similarity is that both apps will show people the price of a specific prescription drug and the price you would be expected to pay for it with a coupon from each respective service. You can see in each app the price for a specific prescription and the discounted prices that you would have to pay at each of the pharmacies that are closest to you.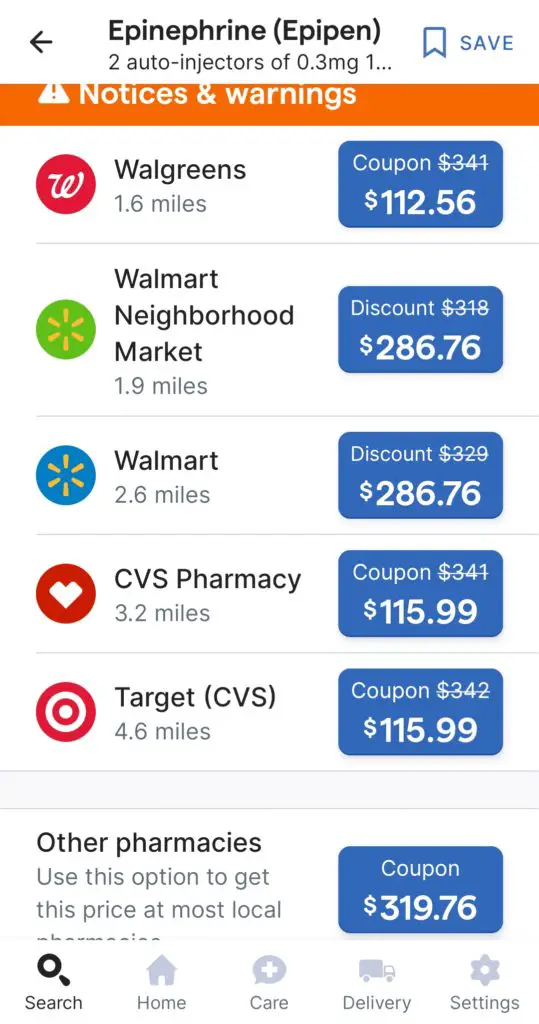 Similarly, they each have features like integrated Google Maps to help people to navigate to any specific pharmacy where a coupon is actually able to be used. All you have to do is select the pharmacy location and Google Maps or your default GPS app will help you navigate there. Each app also gives people the ability to save, text, or email a certain coupon so that people can use them later or send them to others that might need them.
Also, one thing that's important to note is that the prices SingleCare lists on each prescription are technically the price savings you'll pay AFTER you sign up to be a member of SingleCare. Technically it is 100% FREE to sign up with SingleCare, so anybody who is interested in using them loses out on nothing by signing up with them, and only stands to spend a little bit more on their prescription by not doing so.
When it comes down to which one is just generally cheaper, it's hard to tell. As seen above both apps were to search for a generic Epi-pen prescription. According to the prices shown in each picture, GoodRx seems to have won out on offering cheaper prices. However, this is not always the case as we at Moneymakersandsavers.com will show you in these next few price comparison pictures.
Price Comparison: Amoxicillin
Price Comparison: Lisinopril
Price Comparison: Tadalafil
Price Comparison: Sildenafil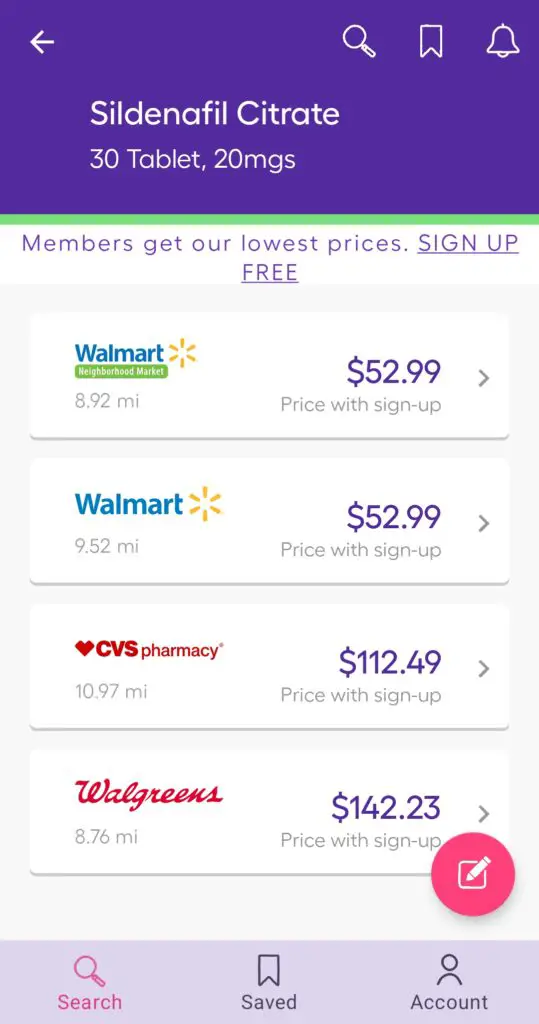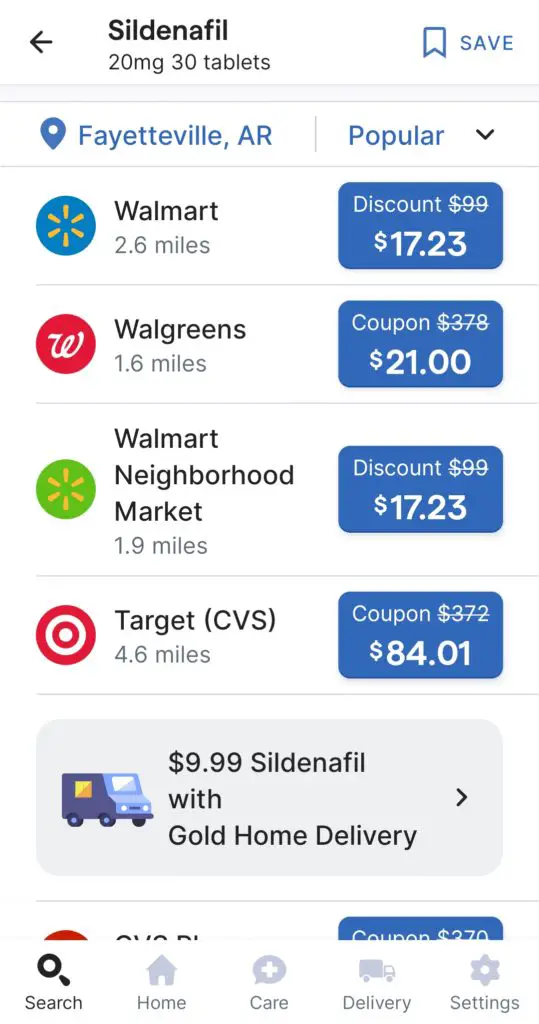 As anyone can see from the price comparisons above and the one for the Epi-pens, one can't conclusively say that either service offers better discounts on average than the other. Based on the few comparisons done here, it seems like SingleCare offers better discounts when it comes to cheaper prescriptions, but GoodRx offers better discounts on prescriptions that cost more.
SingleCare Bonus Savings!
There is one significant and noticeable difference between the two services though! Unlike GoodRx, SingleCare offers bonus savings to anyone who signs up with them. When you first sign up for a free account with SingleCare, they offer you $5 to be added to your account.
You can continue to earn more bonus savings by filling eligible prescriptions. Most prescriptions earn $1 in additional bonus savings. Potential earning value is displayed on each eligible prescription's coupon summary page. Just make sure to log into SingleCare.com first. These bonus savings are also automatically applied whenever you have to buy some more prescriptions!
Either one works great to help save anyone on their prescription cost so it would be a good idea to go ahead and install the app for both and make sure to check the price between them to maximize one's savings!
NOTE: THE PRICE ON THE COUPON IS THE PRICE YOU PAY FOR THE PRESCRIPTION. THIS CANNOT BE USED TOGETHER WITH INSURANCE. IF YOU HAVE INSURANCE AND THE PRESCRIPTION IS CHEAPER WITH IT, PLEASE USE THE INSURANCE.