How To Save a Bunch of Money On Prescriptions and Doctor's Visits with GoodRx!
What is GoodRx?
With GoodRx you can search for just about any prescription drug and use the coupons on GoodRx to buy them at up to 80% off, The app features a search function for specific drugs and general searches based on specific health conditions. The types of prescription drugs you can save on even include many prescriptions for pets.
[slm_content_lock]
How to use GoodRx to save a ton of money on prescriptions!
When searching for the prescription drug you need, the app will show the prices with their coupons applied at several different pharmacies. The pharmacies include those in the big ones like Walgreens and CVS, and even the ones in Walmart, Sam's Club, Target, and more. If you can't find an offer near you from one of the better know pharmacy options, they even offer coupons for most local third-party pharmacies.
This way you can compare the prices of the same prescription drug at several different stores. This is a nifty feature to save you as much money as possible. Other prescription savings apps, like Blink Health, unfortunately, do not have it, while other similar services like Sidecar Health Insurance or Sesame Care allow you to compare drug prices and the price for a doctor's appointment
When you want to redeem the coupon you can simply save it on the app to the My Coupons section and show it to the pharmacist. You could also have the coupon texted to any phone number or emailed to any address.
The features on the app include refill reminders, price alerts on specific drugs, and savings and news notifications. Another nice little feature it happens to have is one similar to the GetUpside app, with its integration with Google maps for directions to the specific pharmacy for the coupon you want to redeem.
Saving money on doctor's visits without using insurance!
If you use the actual GoodRx.com desktop site, you'll find that it offers a service that does not show up on the mobile app. That service is savings on doctor's visits through their program, GoodRx Care. This service is available nationwide and visits can cost as low as $49 and as low as $19 with a GoodRx Gold membership. While the services they have don't cover everything, they do cover a wide assortment of medical appointments that people would typically need.
Here is a complete list of all of the services that they offer savings on: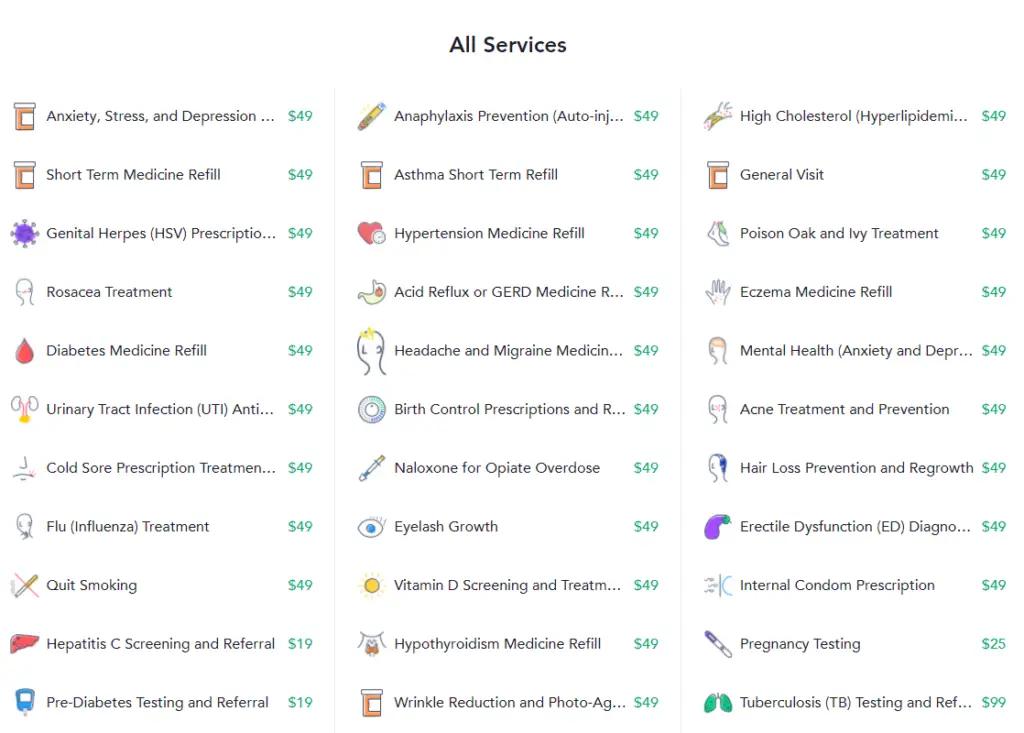 [/slm_content_lock]
How to Save Even More Money on Medical Expenses with GoldRx Care!
They also offer a type of membership plan called GoodRx Gold which costs $5.99/month for individuals and $9.99/month for families that include up to 6 members including pets. You can save up to $106 per prescription and costs are often lower than co-pays.
Along with the potential savings on prescriptions, some of the benefits of GoodRx Gold are:
More than 300 different prescriptions can be delivered to your front door for under $10
The delivery is fast, free, and no-contact straight to your door
They also do discreet packaging to keep your health information safe and private
NOTE: THE PRICE ON THE COUPON IS THE PRICE YOU PAY FOR THE PRESCRIPTION OR DOCTORS VISIT. THIS CANNOT BE USED TOGETHER WITH INSURANCE. IF YOU HAVE INSURANCE AND THE PRESCRIPTION OR VISIT IS CHEAPER WITH IT, PLEASE USE THE INSURANCE.