Sidecar Health Insurance – The #1 Best Health Insurance For the Self-Employed and Part-Time Worker!
What is Sidecar Health Insurance?
Video from Sidecar Health YouTube channel
Sidecar Health Insurance is a new health insurance program manager. This means that they partner with multiple health insurance companies to help underwrite their policies. Sidecar Health pays fixed amounts for every medically necessary service, procedure, and drug except for maternity.
Sidecar Health Insurance Networks
One of the best things about Sidecar health insurance is that you can see any doctor that you want. Traditional health insurance companies like Humana or United Healthcare typically have "networks" which means different doctors accept insurance from different insurance companies. If a doctor that you need or want to see is not "in-network" that means they are classified as "out-of-network". Going to an "out-of-network" doctor means that the insurance you have will cover noticeably less of your costs and might not cover you at all leaving you to pay thousands of dollars more out of pocket!!!
This is no longer an issue with Sidecar health insurance because they don't bother with networks at all and you can see anyone you want! You can also sign up and cancel their insurance at any time without having to wait for "open season" insurance enrollment periods like you usually have to!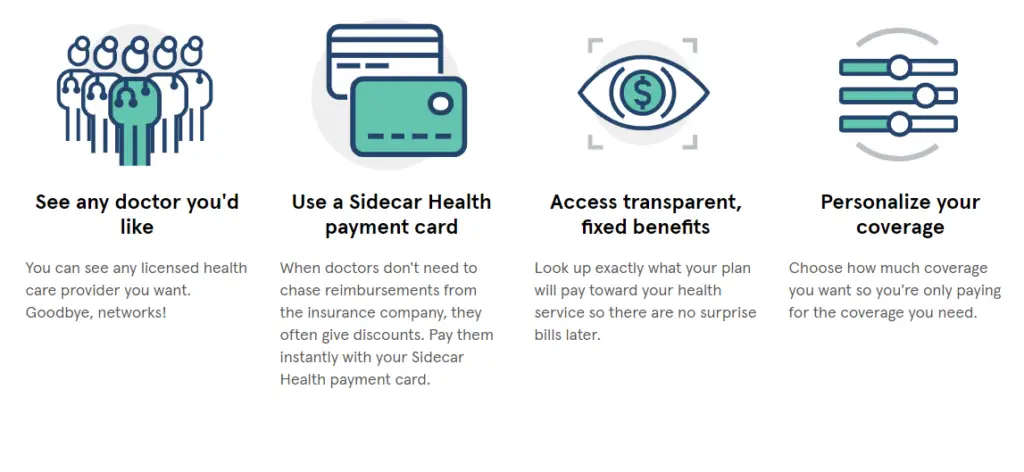 Image from sidecarhealthinsurance.com
[slm_content_lock]
Sidecar health insurance plans
To sign up for one of their health insurance plans all you need to do is go to their website or download their app on the App or Google Play store. Then, they can offer you a personally customized health insurance plan based on your information. First, they will as you about your zip code location. Then they will ask you about your name, birth date, gender, and any particular medical issues that might pertain to you, like if you're pregnant, have diabetes, have mental health disorders, etc. Then, based on your information, they will offer you several different types of plans that you can buy from them.
All of the plans that they offer have a maximum amount of "annual coverage per person". After you reach that limit is when you will have to start paying for your prescription and doctor's visits out of pocket. With the exception of their "customizable plan", your deductible will always be $0 until you reach your coverage limit! If you don't mind paying for some of your medical expenses out of pocket the "customizable plan" will allow you to be able to make your monthly premiums cheaper by adding a maximum deductible of $1000.
Video from Sidecar Health YouTube channel
Their plans cover all your prescription costs and all "necessary medical care. Their definition of medically necessary care is basically anything except elective and cosmetic procedures.
Video from Sidecar Health YouTube channel
They offer "budget" plans for those who want to cover only their basic medical needs, plus a little extra in case of a minor emergency.

Image from sidecarhealth.com
They offer "standard" plans for those who want to cover more frequent medical needs and be prepared for small to medium emergencies or procedures.

Image from sidecarhealth.com
They offer "premium" plans for those who want to cover frequent medical needs and be prepared for major emergencies or procedures.

Image from sidecarhealth.com
They also allow you to further customize your plan once for those who want to customize their coverage for their specific needs. This plan allows you to decide what annual coverage per person you want, up to $2,000,000.

Image from sidecarhealth.com
Maternity care with Sidecar health insurance
None of the plans cover medical maternity expenses as a default. However, at the checkout when you sign up, you can add maternity care coverage to whatever plan you selected. if you choose to add maternity coverage to your plan the benefits will extend your health coverage to include all medically necessary maternity services (e.g., prenatal care, hospitalizations, physician fees).
It includes additional annual coverage and a deductible that only counts towards maternity services, which you can also customize how you please to best match your needs vs expenses. There is a 3-month waiting period for this coverage to become effective. The rate is locked in for 3 years but you can cancel the policy at any time.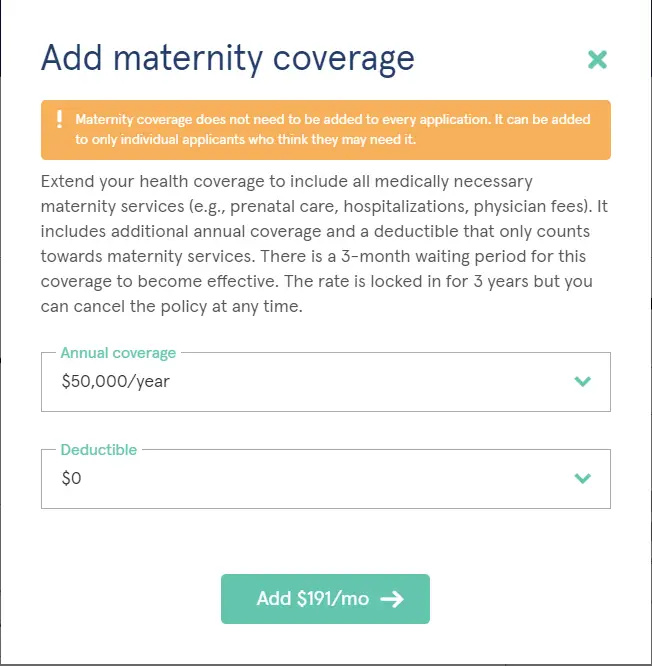 Image from sidcarhealth.com
Lock in your rate for 3 years!
Sidecar Health evaluates its members' health costs once every 12 months and may increase or decrease their monthly costs accordingly. Similar to how rent control works, for a small extra fee, this option locks in your monthly costs for three years. At the end of three years, they will then evaluate your health costs and adjust your monthly cost accordingly.
How Sidecar health insurance works!
After you sign up for and pay for your visit or service at the time you receive care, use your Sidecar Health payment card (it's a debit card) to pay. If you're responsible for any part of the cost, they will charge your credit or debit card on file with them for that amount. Take a picture of your itemized receipt and send it to them via the Sidecar Health app or website, and you're done!
You can change your plan at any time. You will just have to go through the medical questionnaire again. Your coverage will kick in on the "effective date" you selected, and the earliest "effective date" that you can select is 14 days after first you sign up.
Paying for Sidecar health insurance!
You can choose to pay for your premiums with a debit card, credit card, or bank account. They will charge your payment method on the schedule that you choose. You also have the option to choose to pay for your plan quarterly, semi-annually, or even annually!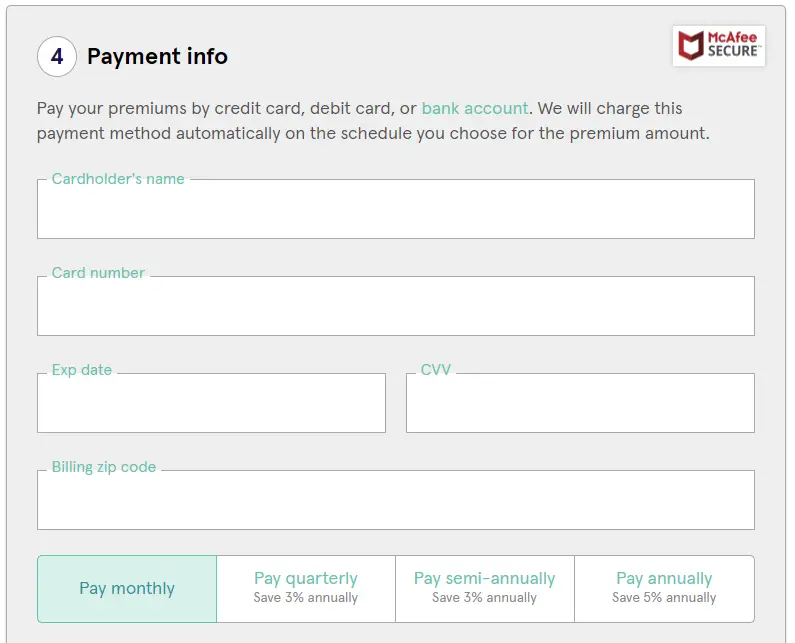 Image from sidecarhealth.com
As a Sidecar Health member, you just log in to your account before you visit the doctor to see what your plan pays, and use your VISA debit card to pay for care directly at the time of service. That way, you not only get big discounts for being a "self-pay" patient, but it means you can go to any licensed provider you want! Then just upload a picture of your itemized bill and they take care of the rest.
When you swipe your SH payment card, an estimated benefit of 80% is paid and the remaining 20% comes from your personal payment method as an estimated share. Initially, it's split this way because they do not know what services were rendered yet. Once you upload an itemized bill they can see what was done, calculate the actual benefits, and either bill or credit you the difference between the actual benefits and what the provider charged.
Note: This means that you can end up paying for some of the healthcare expenses out of pocket. The best thing to do is make sure you're using Sidecar's price comparison features if you want to save money. If the cost of the healthcare is less than what Sidecar is willing to that also means that you can pocket the difference yourself!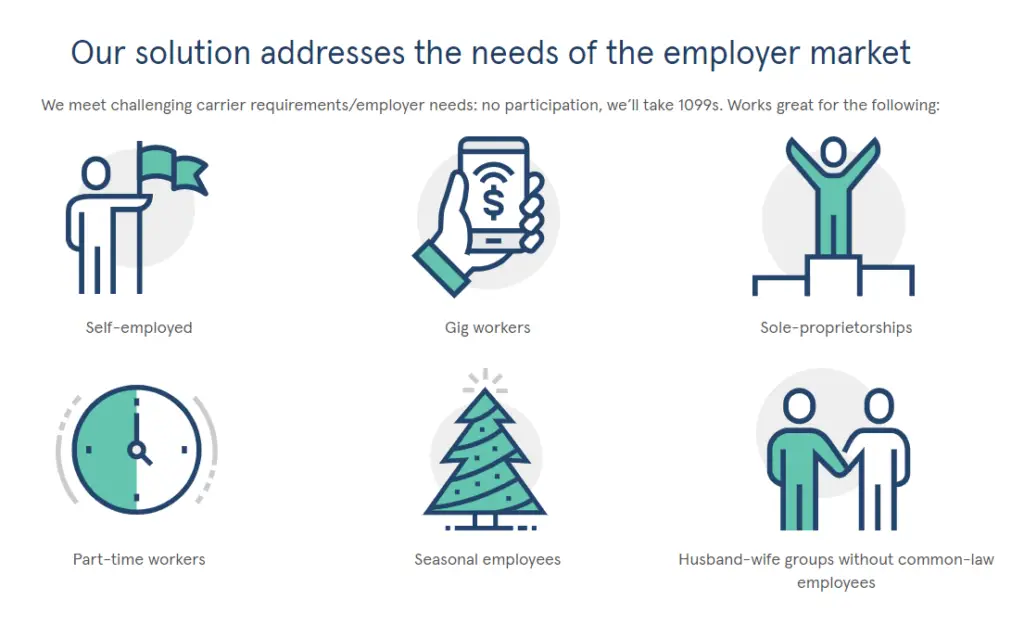 Image from sidecarhealth.com
[/slm_content_lock]
How to increase your savings using Sidecar's price comparison tools!
You can also use Sidecar's website or app to see what the doctors in your area charge for the same things. This is similar in nature to the GoodRx prescription savings service that I wrote about in another post that allows you to see what different pharmacies charge for the exact same prescription.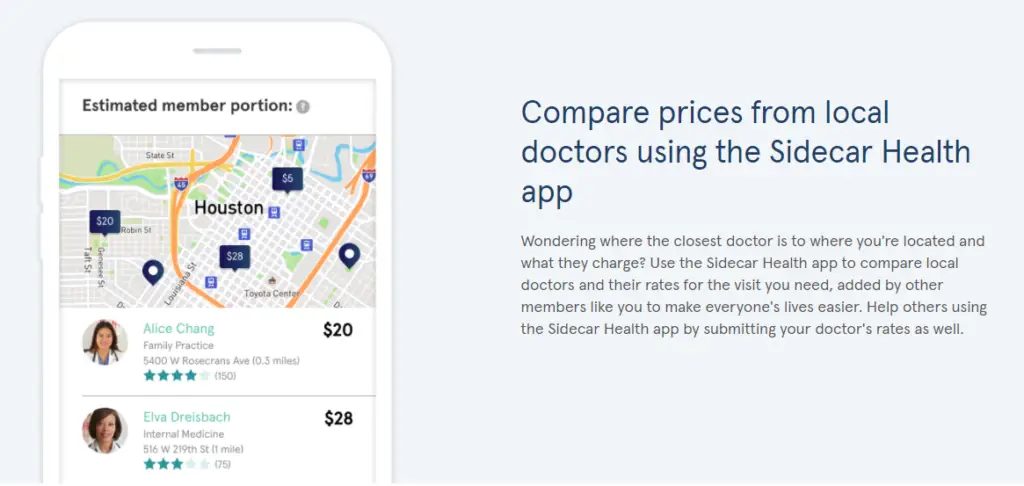 Image from sidecarhealth.com
NOTE: IF AN ITEMIZED BILL IS NOT UPLOADED WITHIN THE TIME PERIOD STATED WITHIN YOUR POLICY, YOU WILL BE RESPONSIBLE FOR THE ENTIRE AMOUNT OF YOUR CARE. SO MAKE SURE TO EITHER USE THE PROVIDED SIDECAR HEALTH CARD OR UPLOAD YOUR RECEIPT AS SOON AS POSSIBLE IF YOU PAY YOURSELF TO THEN GET REIMBURSED.
NOTE: AS OF NOW, 06/2021, SIDECAR HEALTH INSURANCE DOES NOT YET OFFER COVERAGE ON DENTAL CARE