Worthy Bonds – 5% Interest Savings Account
Worthy Bonds – How to Earn Stable 5% Interest on Bond Investments!
In a world of completely abysmal savings account earnings rates, where you are lucky to get 0.25% interest on your money in savings accounts nowadays, Worthy Bonds is a breath of fresh air.
5% Interest bonds
Worthy Bonds is a type of online investment account that can act like a decent savings account that pays you a flat 5% interest on your money. You only need $10 to start investing with them and every individual bond is $10 dollars, they pay 5% fixed interest, there are no fees or penalties to that they make you pay when using the account, and the interest compounds daily.
The bonds are technically 36-month term bonds, but that doesn't mean you have to wait for the full 36 months to pull out any of the money in principal or interest that you have in your account. You can pull out any amount you want at any given time. There is also a social benefit to be had when investing in Worthy bonds. Worthy bond proceeds are used to provide asset-backed loans to America's growing businesses which are the backbone of the US economy.
The way it works is similar to other types of investment/financial apps. You set up an account with your personal and bank information. Then you get to choose between the several different types of accounts to use to invest in their bonds. You can just do a regular individual one for yourself, open a trust with them to use the money for a specific purpose, open a traditional IRA with them, or open an account for a regular or non-profit business. One nice thing about worthy bonds is that you can set up your bank accounts to regular deposits or round up savings, which is a type of banking service that has been growing in popularity lately.
Round-ups
I'm going, to be honest, though, the type of round-up service they offer is a bit weird and a little bit of a hassle. You have to connect two different accounts. One of them is your "Funding Source" account which is the main account you buy bonds with and the other is your "Monitoring Account" which is an entirely separate account.
Worthy bonds monitor debit transactions from your funding source and once the spare change rounds up to $10, those $10 dollars are pulled out of your "Monitoring Account". I'd imagine it would take a checking account to use as "Funding Source" and a savings type account as the "Monitoring Account" in order to do this type of round-up in the most optimal way. They also offer a "Planning Calculator" service that allows you to accurately so how much your money could grow, depending on how much you invest with them.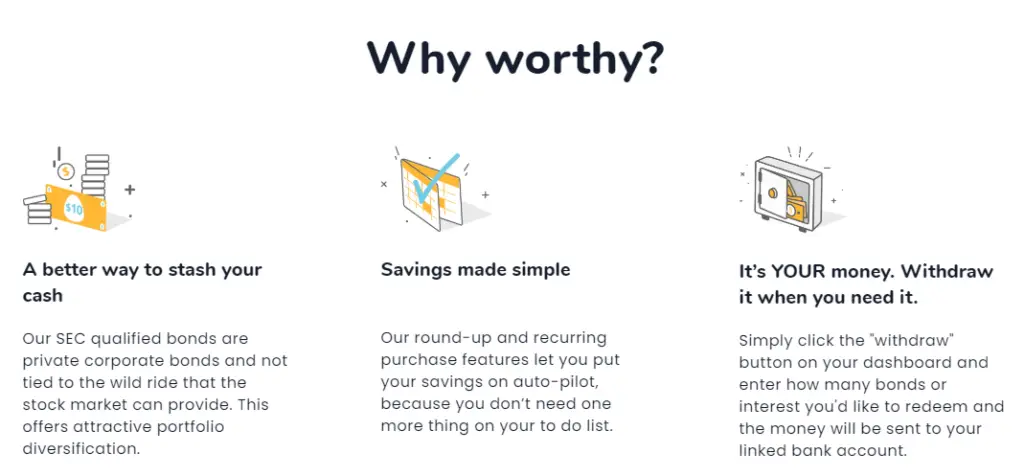 Stability with Worthy Bonds
The best thing about the bonds that worthy bonds sell is that like CDs or similar investment options the bonds do not change in value like investments in most other vehicles do while paying that 5% interest. Strictly speaking, the bonds are Securities and Exchange Commission (SEC) qualified, 36-month, 5% interest-bearing obligations of the issuer (Worthy Peer Capital, Inc., Worthy Peer Capital II, Inc., Worthy Community Bonds, etc.). However, you can always withdraw however much of your money that you like at any given time.
Here's a video from Mike Tha Investor Investor's YouTube Channel reviewing Worthy Bonds and shows off how much compound interest you can earn.
NOTE: ACCREDITED INVESTORS CAN BUY AN UNLIMITED AMOUNT OF BOND, WITH A $50,000 limit on online purchases. BUT NON-ACCREDITED INVESTORS (WHICH IS MOST PEOPLE) HAVE A 10% LIMIT ON THE NUMBER OF BONDS THAT THEY CAN PURCHASE BASED ON INDIVIDUALS ANNUAL INCOME OR NET WORTH. ALSO, LIKE MOST INVESTMENT ACCOUNTS BEAR IN MIND THAT IT WILL TAKE A FEW DAYS FOR MONEY TO COME TO YOUR BANK ACCOUNT AFTER YOU SELL ANY OF YOUR BONDS.
Disclaimer: I am not any sort of investment or financial professional giving any sort of legal advice. I'm just some guy trying to teach other people about how they might navigate the financial world.