Earn Unlimited 4% Cashback With The Slide Cashback App!
What is Slide?
Slide is a new cashback app that you can use to purchase items by connecting a debit or credit card to it and buy electronic gift cards that earn 4% cashback for you whenever you use them. The Slide cashback app is similar in nature to the "Pay with Ibotta" feature of the well-known Ibotta cashback app. You can use the Slide cashback app to earn 4% cash, and if you link it to reward credit cards you can earn extra cash back or reward points at the exact same time!
Slide allows you to earn an unlimited amount of 4% cashback. It's available to use at over 200+ brands with no rotating categories. The categories of brands that you can use the Slide app include apparel, automotive, baby and kids, beauty, dining and delivery, entertainment, grocery, home, pets, shoes, sports and outdoors, and travel Similar to Ibotta and other cashback apps like Checkout51, Shopkick, and others, you can use the slide app at both brick and mortar and online shops.
Using it is quick and easy as well as contactless. The Slide app allows you to earn real cash back instead of points that can be difficult to understand the value of and use. Slide allows you to connect a rewards card or Apple Pay to use it and stack both their rewards with the cash your earn from Slide. You also have the option to earn an extra 1% to earn a total of 5% cashback by preloading the Slide app using your payment method.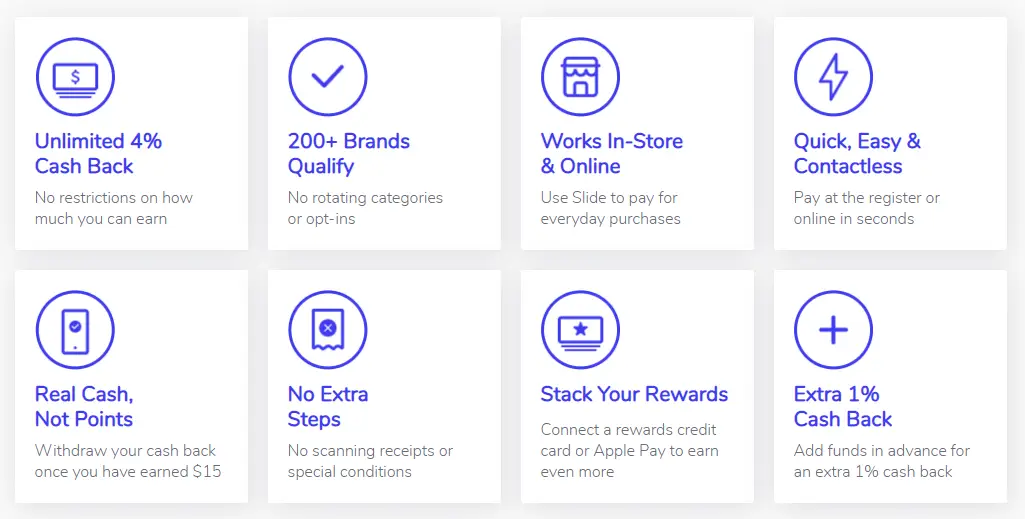 Some of the over 200 brands that you can use the Slide app include:
Lowes
Petco
Southwest
Uber
Doordash
Ulta
Bed, Bath, and Beyond
Dunkin Donuts
Express
Under Armout
Carnival
Chipotle
Panera
Bass Pro Shops
Gamestop
AMC
Bath and Body Works
Dominos
and more
How does the Slide cashback app work?
In order to earn 4% cashback using the Slide app you first have to connect a payment method. You are allowed to use a credit or debit card, Apple Pay, Google Pay, PayPal, or BitPay. Bitpay can be used on the Slide app to preload funds. All payments are encrypted by Braintree, which is a PayPal company.
After adding a payment method you can shop online or in a store and when you are ready to check out, select the brand you are buying from and buy an e-gift card for them. Then, enter the purchase amount. You can include any tax and tips included as unlike most other gift cards the e-gift cards that you buy from Slide allow you to pay for a very specific amount down to the last cent.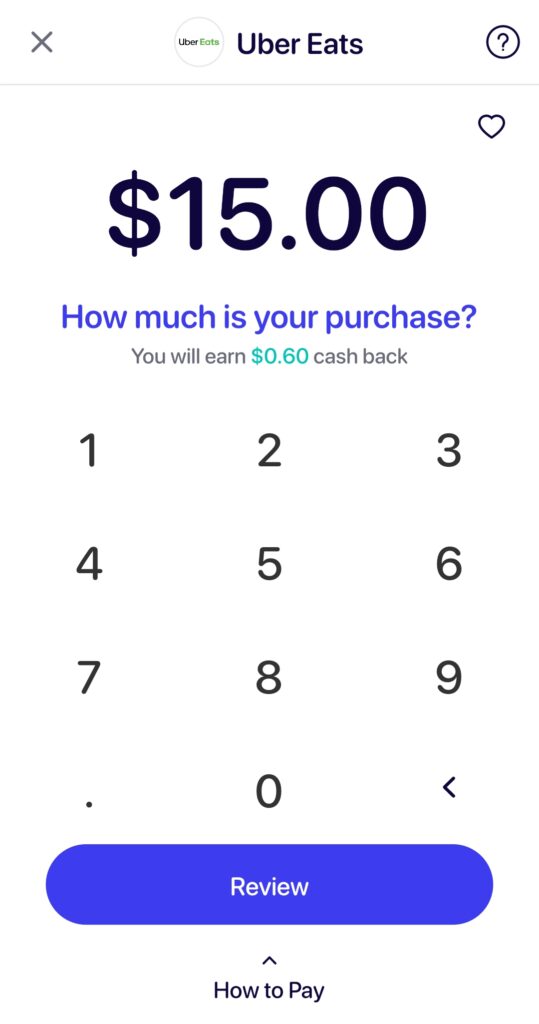 In order to pay with the Slide app, you have to buy the e-gift and then ask the cashier or waiter to scan or key in the barcode that Slide will send you after purchasing the e-gift card. If you're making a purchase online then you have to purchase the e-gift card using the "Shop Online" option. When you're ready to pay whatever online vendor you choose simply click the "Pay with Slide" button down at the bottom of the screen. Then, inside the payment method of the online store just enter the serial number and/or PIN into the gift card field at checkout.
How to cash out of the Slide App!
In order to cash out your money in the Slide app, you can do it in a few ways. You can apply your cashback towards your next purchase. This is similar to the way that credit cards allow you to apply earned cashback towards your debt. You can also withdraw it into a connected Venmo or Paypal account once you have earned at least $15 in cash back.