Medium.com – How To Make Money Blogging Without Creating Your Own Site!
What is Medium?
Medium.com is an online forum where you can read articles published by writers if you pay for a membership to view them. When someone who is a paying member on Medium reads a writer's content for some time the writer actually gets paid because of that. This is actually similar in nature to the "space" or " Quora +" subscription monetization model available for some writers on Quora.
How to make money blogging on Medium.com!
In order to start making money on Medium, you need at least one with them. It turns out that after contacting their support that even if you have an already existing blog of your own you can publish any content that you have already made on another on Medium.com. Just make sure you really own the content or you can and probably will be hit with a copyright strike and have your content taken down and your account banned.
Publishing content on Medium is actually quite easy. Simply create an account with, and then click on your account icon in the top right corner of your screen. Click on either "Stories" or "Write A Story". Using the "Write A Story" option allows you to created new content completely from scratch. By going to the "Stories" section you have two different options in order to create and publish content. You can either just write a story from scratch or you can also "import a story".
Importing a story is the option that you would use if you already have existing content that you would like to just move over to their site in order to make money on their platform. It also might be a good way to advertise your site/blog since importing a story also allows any readers to see where the content came from on the bottom of the page. (Note: While importing your content is a relatively easy and quick way to move your content over sometimes it won't transfer over completely so you might still need to do some copying and pasting from your original content.)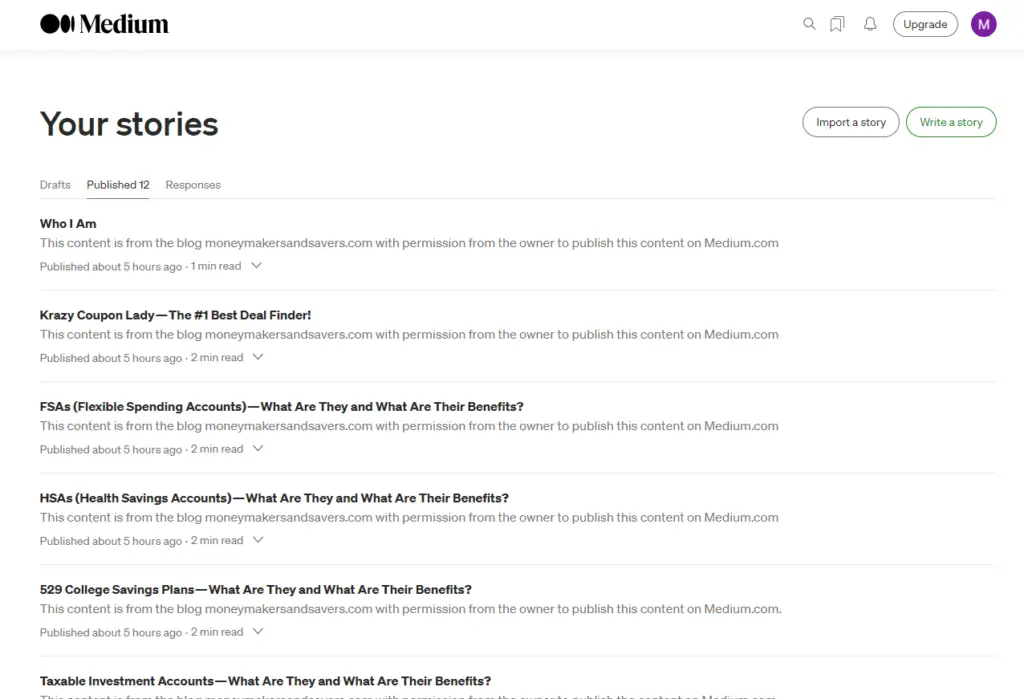 How to join Medium's Partner Program!
Similar to YouTube's partner program, in order to actually start making money on blogging online, you actually need to be allowed to join their partner program. In order to join said partner program, your account does need to meet some requirements first before you can start making money off of your content.
Through their "Partner Program", you can make money in two different ways which are "member reading time" and "referred memberships". With member reading time, the longer people spend reading your content, the more money you make! Medium's membership referral program is basically an affiliate program that will actually pay you recurring commissions if people sign up to become paying readers through your links.
The requirements to monetize your content on Medium.com are:
Publish at least one story
Gain at least 100 followers
Keep publishing content regularly (at least once every 6 months)
Thankfully, you don't actually have to pay for one of Medium's memberships in order to start making money with them. You just have to publish good content regularly and gain at least 100 followers!
All-in-all, if you want to start trying to make money by blogging/writing online and don't want to go through with the hassle of dealing with the technical side of things like website hosting and ad placement, then Medium is a great way to do so. I will say this, however, like YouTube and other online forums, publishing on a platform like Medium means that you do not completely control the content that you publish there. So, unlike if you owned your own website then Medium is free to remove/censor your content if they feel the need to do so.