How To Earn 10% Cashback With The M1 Finance Rewards Card!
What is M1 Finance?
M1 Finance is an investment brokerage that offers investment and banking services. The unique thing about M1 Finance is that they were one of the first brokerages to offer both commission-free and fractional shares on any stock listed in the US stock market. They did have predecessors like the investment brokerages Stash and Robinhood that really started and popularized the investment trend of commission-free trades, started by Robinhood, and fractional shares, started by Stash. Technically, Stash also had commission-free trades, but they also charge a monthly fee for their accounts, so I'm not counting it as entirely free.
How to earn 10% cashback with the M1 Finance Rewards card!
Recently, M1 Finance teased the introduction of a new product being offered by them and said it had something to do with the number 10. Well, it looks like the new product is the M1 Finance Rewards card. The original cashback debit card earnings for people on their M1 plus program was just a measly 1.5% cashback for all purchases.
The new M1 Finance Rewards card allows you to earn up to 10% cash back on purchases when you spend on certain brands within your pie like Netflix. You also have the opportunity to earn some lightly lower returns like 2.5-5% cashback on other purchases from things like Starbucks or Amazon.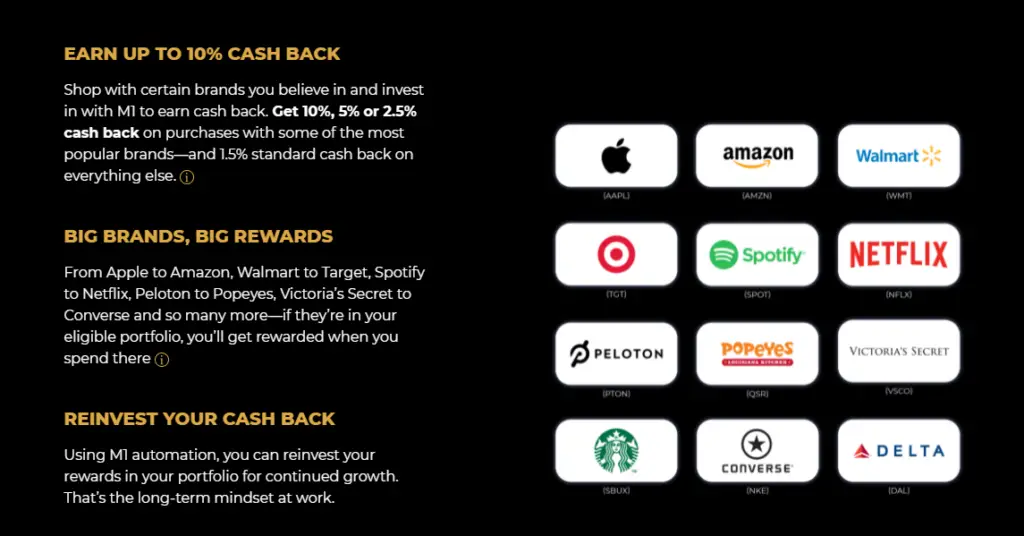 Here are some of the stores that you can earn cashback with the M1 Finance Rewards card at this time:
Earn 10% Cashback with the M1 Finance Rewards card:
Adobe
AMC Theatres
Chewy
Dropbox
Gamestop
Bath and Body Works
Victoria's Secret
Lululemon
Netflix
Purple
Peloton
Stitch Fix
Spotify
Tesla
Ulta Beauty
Wayfair
Earn 5% Cashback with the M1 Finance Rewards card:
American Airlines
Chipotle
Delta
Dollar General
Domino's
Etsy
Reverb
Fedex
Jetblue
Southwest
Converse
Nike
Starbucks
Home Goods
Home Sense
Marshall's
Sierra
TJ Maxx
United Airlines
UPS
Earn 2.5% Cashback with the M1 Finance Rewards card
Apple
Airbnb
Amazon
Audible
Twitch
Whole Foods
Zappos
Best Buy
Comcast
Costco
Caviar
Doordash
Ebay
Home Depot
Lowe's
Lyft
McDonald's
Burger King
Popeye's
Tim Horton's
AT&T
DirectTV
HBO
Target
T-mobile
Postmate's
Uber
Uber Eats
Verizon
Duane Reade
Walgreens
Bonobos
Moosejaw
Sam's Club
Walmart
KFC
Pizza Hut
Taco Bell
Earn 1.5% Cashback with the M1 Finance Rewards card:
Just so people know the M1 Finance Rewards card is a VISA credit card and not a debit card. You also do need to be a part of M1 Finance's M1 Plus program in order to sign up for the M1 Finance Rewards card otherwise it costs $95 in annual fees. It costs $125 per year, but M1 is currently offering the first year of M1 Plus for free so you can sign up for M1 Plus and join the waitlist to get early access to the new M1 Finance Rewards card!
A few neat features that the new M1 Finance Rewards card also offers are:
It's a metal card
The ability to reinvest the cashback rewards like other credit cards linked to brokerages do.
The ability to use contactless pay
You can manage and freeze your card from your M1 account
Since the card is a VISA signature card you get added benefits like "VISA Zero Liability"
video from the official M1 Finance YouTube channel
M1 Owner's Rewards Card by M1 Powered by Deserve and issued by Celtic Bank, a Utah-Chartered Industrial Bank, Member FDIC.

Not available for US territory residents. (until resolved, if mixed marketing this should specify that the Credit card is not available…)
How does M1 Finance work?
Like I said before, M1 Finance is a completely free investment brokerage to invest with! You can open several different types of accounts with them. The different types of accounts they have available are:
An Individual Investing account: This is a regular taxable investment account. Unlike retirement accounts like IRAs, these have no tax benefits that come with investing in them. However, they also don't have contribution limits and while you will have to pay taxes on dividends and gains from growth, you can pull out your money at any time without also having to pay an extra penalty fee if you did so with a retirement account most of the time. Note: in order to open a taxable account with M1 finance they require you to deposit a minimum of $100 to open the account. After that, the minimum they will allow you to invest is $25.
A joint investment account: This is also a taxable investment account. The difference with this account is that two different people have access to this account. If you already have another account set up with M1 Finance then all you need to do is add the second person's individual information when opening a joint account.
An IRA (individual retirement account: An IRA is a retirement account that an individual can open up all by themselves instead of needing to rely on employer-sponsored accounts like 401ks. There are two different types of IRAs. One is the traditional IRA and the other is the Roth IRA. They also allow you to open a type of account called a SEP IRA. IT is also possible to open one of these types of accounts by doing a 401k rollover. Note: In order to start an IRA account with M1 Finance, they require a $500 minimum deposit. After that, the minimum they will allow you to invest is $25.

Traditional IRA: A traditional IRA is a type of retirement account where the contributions count as pre-tax contributions. This means that any money that you put into this type of account can be deducted from your taxable income for the year that you made the contribution.
Roth IRA: A Roth IRA is a type of retirement account where the contributions count as post-tax contributions this means that the money that you put into these types of accounts will not be tax-deductible for the year that you made the contributions. However, once you reach the official retirement age, all of the gains and dividends from this account will be 100% tax-free.
SEP IRA: A SEP IRA or self-employed IRA is a type of IRA that you can open when you are self-employed or own a small business. It has a higher contribution limit than either the traditional or Roth IRA. At this point in time, M1 Finance only supports SEP IRAs for self-employed individuals.

A Custodial account: A custodial account is a type of investment account that a custodian (typically a parent/guardian) can open for the benefit of a minor. The contributions to this type of account can only be accessed by the beneficiary when they reach 18 years of age and then they can use the money how they please. Note: In order to open this type of account you will need to be a member of the M1 Plus program which costs $125/yr., with the first year currently being free.
A Trust account: A trust account is a type of investment account that is opened by an individual and managed by a "trustee". The trustee manages the account based on the agreed-upon terms set by the one who opened the account. So if someone wanted their money to be doled out to specific people in specific ways then the trustee would do that. Note: While you don't need to be part of the M1 Plus program in order to open this type of account, you do have to start the account with a minimum of $5000 and unlike the other types of accounts you can't open it completely online, and you have to fill out some extra forms that M1 Finance will send you in order to open a trust account.
Sign up to invest with M1 Finance and start earning up to 10% cashback on your purchases by clicking the link here. https://m1finance.8bxp97.net/4edv5o
Note: This page contains affiliate links that will, at no cost to you, earn me a commission. You are in no way obligated to click on the links!
Disclaimer: I am not any sort of investment or financial professional giving any sort of legal advice. I'm just some guy trying to teach other people about how they might navigate the financial world.