How To Get Your Website To Show Up In Google News! 2022
How to get your website to show up in Google News!
Google News is a great source of traffic for websites. It's a way for websites to get more traffic to their website that doesn't rely on being on the first or even the second page of Google web search results. In order to get Google to show your website on Google News, you have to follow a few steps first. In order to do this, you have to go to Google's "Publisher Center" in order to submit your website's information so that Google might show your website pages/posts in Google News.
Being able to show up on Google News has significant advantages the include
better ranking – as the informative content is fresh and unique
increased authenticity – Google is looking for an authentic brand that is easily trusted by web users
Brand Value – Having approved websites will help you in popularizing your brand news channel to the world. You can select a niche, get your website approved in Google News and then use this website as a brand for publishing your news content.
Instant traffic – News published on your approved websites gets indexed fast and you will start getting traffic instantly on your website. Depending on the news quality and brand value of your website Google will display your news in proper place in Google News search and you will start getting instant traffic to your website and sends 6 billion clicks per month to publishers all over the world
Fast indexing of new pages – Google News crawler is special crawler which is designed to index news in real-time. When you publish your news in Google News approved website it is crawled and indexed in news index within few minutes. This gives a huge boost to your website and you will start getting visitors instantly. But keep in mind that Google News is looking for news and you should publish only news on your Google News approved website
That way you can drive more traffic to your site so that you can better build your brand and hopefully earn more money from things like affiliate marketing, or ad revenue using ad networks like Google Adsense or Ezoic. The extra traffic that you can get from Google news also means you can rely less on purchasing traffic through online ad campaigns using services like Google or Bing Ads.
How to submit your site to Google Publisher Center!
Step 1: After going to the Publisher Center, click on the "Add Publication" button in the top left corner of the screen.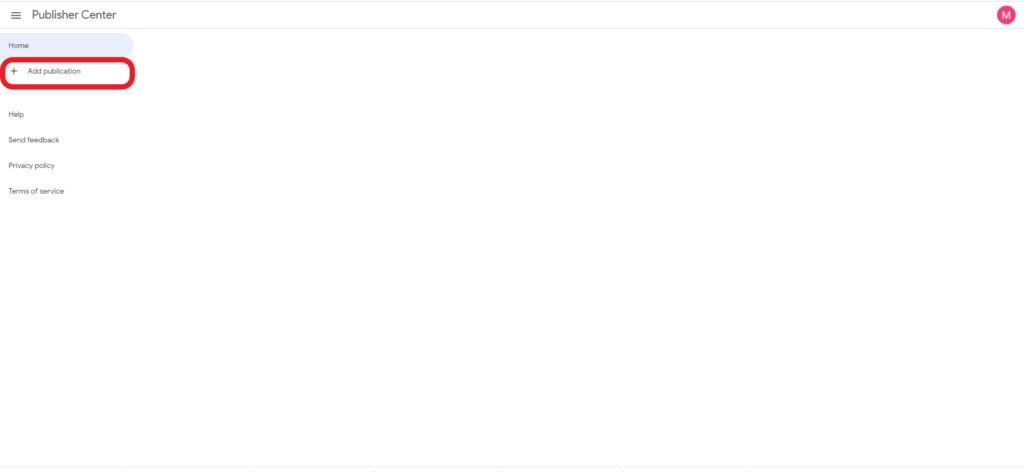 Step 2: Enter your website name, website URL, and your location in the world. Then click the "Add Publication" button.
Step 3: Go to the "Publication Settings" on the top right of the page.
Step 3.1: In the "General" tab of the publication settings enter your information about the "publication name", the language of your target audience, your location, and etc.
Step 3.2: In the "Visual Styles" tab, upload a logo for your website. The logo can be a square or rectangular logo. Whichever one you choose, both the logo on your website and the one you upload to Google Publisher Center must look the same.
Step 4: Go back to the Publisher center dashboard and click on the "Google News" section in the middle of the next page.
Step 5: Click the "Edit" button in the upper right corner of the net page.
Step 6: Enter information about your website's description, content category, how and where you want your content distributed, along with your Google Analytics ID (This is used for the purpose of tracking traffic from Google News).
Step 7: Add the different sections of your website that you want to appear on Google News. (You also have the option to restrict content to specific access groups for testing purposes).
Step 7.1: For the purposes of this website, we will be using the URLs for each category of the "Main Menu" using the "Feed" or "Web location" (whichever allows your content to show up) option. Then click the "Add" button.
Step 8: After adding all of the sections of your website, In the "Preview" section click the "Reload" button to make sure Google News shows all of your content. You may need to click on the "Review" button next to the "Content" section inside the Google News app publishing status section.
Step 9: Click "Review" next to Please review our Terms of Service and enter your information. Then click Submit. (If you're having any issue with the feed of your content not updating properly, download and install the plugin, "GN Publisher" WordPress plugin. It has some helpful tips to see if there's anything that needs to be fixed before your site will show on Google News. It will also automatically ping Google News to update the feed in there every time you publish or update a post).
Step 10: Review all of the sections and make sure to complete them in the Google News app publishing status box. After all of those have been completed, click on the "Publish" button. Google will then review your site. The review process takes 2 – 4 weeks. You'll get an email when your publication is live, or if there's an issue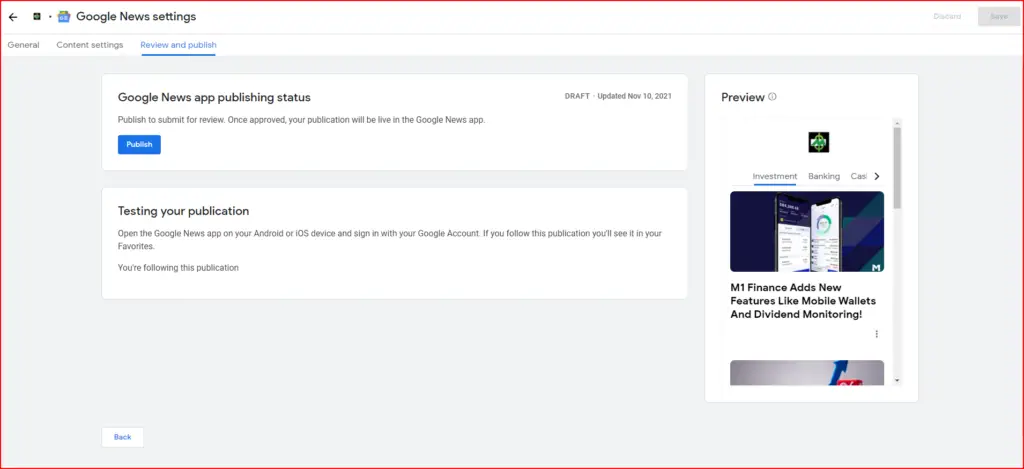 As mentioned in step 10, Google can take roughly 2-4 weeks in order to review your site and approve it for Google News. It's quite possible and likely that you will get approved faster than that or barring that, they will email you with any issues with your site and content that need to be fixed before they will approve you. Once they have approved you, you'll notice the status of your site go from "In-review" to "Live".
How to track traffic from Google News!
If you have a Google Search Console account you will also now notice that it now has a new section specifically called Google News that will allow you to keep track of how much of your website's traffic is from Google News.
In order to make sure you can actually track the traffic your receive from Google News the best thing that you can do is upload a News sitemap to your Google Search Console account. One of the best and easiest ways to do that is to use an SEO tool like Rank Math SEO, which is the one that I use, which can automatically generate a link to your website's sitemap URLs. You can just copy and paste these URLs into Search Console which will make it much easier for Google to find, index, and track any page on your site that gets traffic from Google News.
I'll be showing the steps starting from getting the sitemap URL to uploading it to Google Search Console.
Step 1: For Rank Math SEO, make sure that the Google News section in the dashboard is toggled on.
Step 2: Go to the "Sitemap settings" section and once you're in there go to the "News" section.
Step 3: Copy the link at the top of the "News sitemap" section.
Step 4: Go to your Google Search Console account and go to the sitemap section
Step 5: Enter your website's News sitemap URL into the search box under "Add a new sitemap". You might need to refresh the page to check and see if everything is working and you can see that Google has accepted the sitemap without any problems.
Now Google is able to easier track all of your content that ends up getting shown on Google News and you as a website owner can now benefit from increased traffic now that you have Google News as a potential source of traffic as opposed to just relying on search traffic.