Truebill – How To Manage And Cancel Bills!
What is Truebill?
Truebill is a budgeting app, similar to the free Mint budgeting app, that allows you to plan a budget, track your bills, and help you manage your subscriptions and bills. Truebill can help people make money by helping them cancel unwanted subscriptions, help you lower your fees, and get you refunds on fees and other charges. Truebill also allows people to keep track of their credit score, access instant cash, put your savings on autopilot and track your net worth.
Truebill has a "Lite" and a "Premium" version. The Lite version of the app includes the ability to set budgets according to two of their categories, the ability to see your credit score, the ability to link your accounts, and balance alerts. The premium version of Truebill allows you to set unlimited budgets, the ability to see your full credit score report (which includes things like credit utilization, number of credit accounts, the average age of credit, etc.), it also includes the ability to link all of your financial accounts, and balance alerts.
The premium plan of Truebill also includes perks like a "Smart Savings Account" which is FDIC insured, allows you to create savings goals like the apps Digit or Qapital. You can withdraw your money from this Smart Savings Account at any time. You can also elect to get paid early and have the money go into this savings account similar to other platforms like Chime or Sofi.
Truebill also offers a "cancellation concierge" who can help people negotiate their bills lower. They give you the ability to track your net worth, real-time sync for your accounts, shared accounts, premium chat, and you can export your data. You can get all of these features if you use the Premium plan for Truebill instead of just the Lite one.
If you decide to use the Premium version of Truebill, Truebill actually allows you to decide how much you want to pay them. They allow you to pay them from a range of $3-$12 per month.
How to use Truebill!
Dashboard
Like I mentioned before, Truebill is quite similar to the budgeting app Mint. Truebill has its own dashboard that you can use to keep track of your monthly spending as well as all of your accounts like your savings, checking, investment accounts, and etc. Truebill auto-updates this information every time that you log in and will always provide the most recent information from your financial accounts.
Bills
In the "Recurring" section of the Truebill app, you can keep track of all your monthly bills. You can log into the accounts of many of the services that you use and connect them automatically. You can also manually set up any bills that you can't find within the app.
If you have a copy of one of your bills you can also choose to upload a copy of one of your bills when it comes to linking the accounts for many of your bills. You can change the notification setting in the app to send notifications to your phone whenever one of your bills is almost due.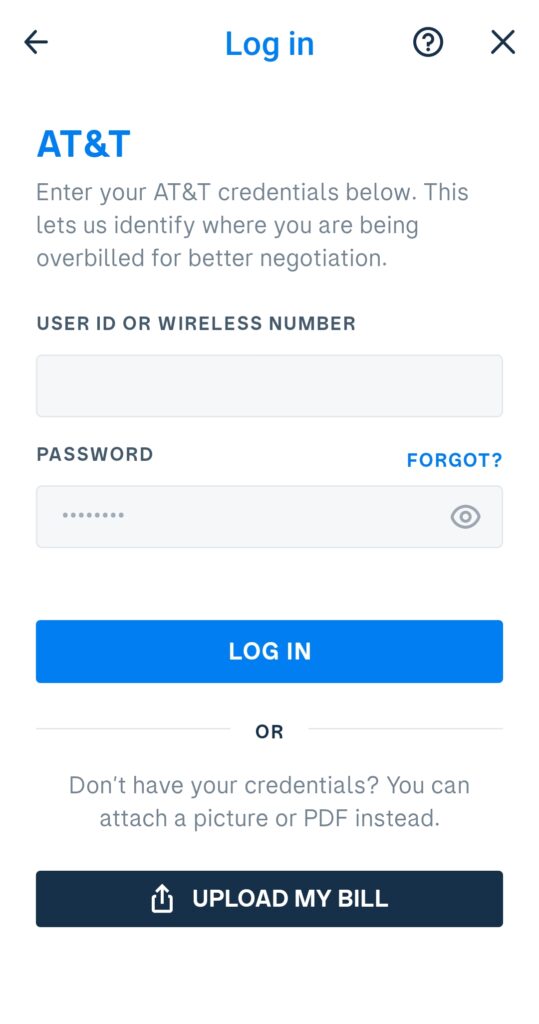 Another prominent feature of Truebill is that it will automatically try and renegotiate the bills you link to the app. Their team gets to work negotiating your bill. They never downgrade or remove your services. Instead, they will try to lower your bill by either negotiating a better rate or by getting 1-time credits applied to your account. Once the negotiation is complete you'll receive an email letting you know your bill has changed and how much you'll be saving.
Truebill's fee is 40% of your savings. If you save $100, they take $40. If they can't negotiate any savings, you pay nothing.
Spending
In the "Spending" section of the app, Truebill allows you to keep track of things like all your monthly income, spending, and how much of all of your bills you've paid. You can also use this section to set up your own monthly budget to make sure you don't overspend and to keep track of where all of your money goes with regard to your spending.
In order to set up a monthly budget on Truebill, click on the "start a budget section". One of the first things that you need to do is tell the app your monthly income so that it knows how much money you have to work with and can tell you when you're spending more than you're actually making in income.
After entering your monthly income select any and all of the monthly bills you have on your account. Truebill will then take these bills into account when it comes to your monthly spending and can tell you how much money you should have leftover after all the bills are paid.
Truebill also allows to get cash advances much like the services offered by banks like Chime or Sofi. You can choose an amount up to $100 and you'll have it in your checking account within seconds. Your pay advance is paid back after your paycheck comes in. Your optional tip helps fund the program for others.
Transactions
If you want to look at all of your transactions that you spend on with any and all of your linked accounts you can go into the "Transactions" section. Here you can see all of the individual purchases you make in one area. Truebill also allows you to edit each individual and type of transaction. You can do things like manually changing the category, adding a note to a purchase. marking the purchase as a recurring one, marking it as a tax-deductible purchase and etc.
Net Worth
In the "Net Worth" section of the app, you can keep track of your net worth by linking all of your major assets and expenses that make up your net worth. This includes all of the cash you have, your car, your house, your investments (which also include any and all cryptocurrency you own), and precious metals/jewelry.