What is the Amazon Affiliates program?
I have blogged in the past about what affiliate marketing is and how it all works. If you are familiar with the affiliate marketing space then you have probably heard about Amazon's own affiliate marketing program since it was one of the first, having started in 1996, and is one of the biggest and well-known ones.
The way affiliate marketing works is that you join a company's affiliate program and once they approve you to join you can then get started making money by placing links online for people to go to and buy a product. You typically have to put in the work by advertising a product online through YouTube, a blog like this one, or some social media platform in order to get people clicking on your links and generating sales.
How to join Amazon Affiliates?
Some affiliate programs have strict requirements in terms of how many views your site needs to have per month or how many followers you need to have on social media in order for them to even be allowed to join their affiliate program in the first place. Luckily, the Amazon Affiliate program doesn't have any strict requirements AT ALL in order to join their program!
All you need to join is to have set up a website, blog, or social media account in the first place! However, just because it's easy to join their program doesn't mean that you won't still need to put in a fair amount of legwork in selling whatever product it is that you are interested in talking about!
Let me go ahead and show you the steps you have to go through in order to join the Amazon Affiliate program!
Step 1: Google Amazon Affiliates or go to Amazon.com and go down to the bottom of Amazon.com and find the link that says "Become an Affiliate"
Step 2: You will be taken to a new page and you need to scroll down to the section where there are a few links, one in the middle of the top and two on the bottom, that will take you to their sign up page
Note: Amazon Affiliates actually has several separate programs that people from different nations can join in order to make money through their program! Here are the links for the different countries that you can join the Amazon Affiliate program from!
Step 3: Go through the sign-up process for whatever particular Amazon Affiliate program for the nation you are from. You will need to enter some personal information for identification reasons
Step 4: Enter the URL for any websites or apps that you own. For social media influencers, you can just list the platforms that your accounts are on.
Step 5: You will need to fill out some information about the niche of the content that you are trying to monetize
Step 7: As soon as you've finished signing up you will receive your own unique Amazon Associate ID
Step 8: Click Now to Enter your payment and tax information. You can get paid in one of three ways. You can get pay by direct deposit, where you need to earn at least $10 before you can get paid. You can get paid with Amazon gift cards, where you also have to earn at least $10 before you can get paid. You can get paid by check, and you have to have earned at least $100 before you can get paid.
Step 9: Continue to enter your tax info. You will have to enter in things like whether or not your a business if you are an actual citizen of the country's program that you join, and your social security number or whatever the equivalent is for your country.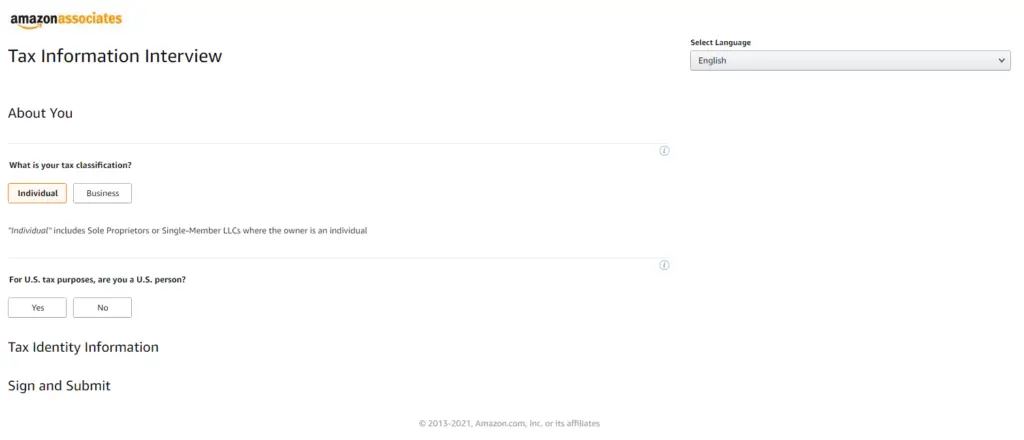 Step 10: Once you've entered all that information you will then be taken to your Amazon Associates account
They have special programs like their "Amazon Bounty Program" where you earn commissions for selling people on Amazon-specific products like Amazon Prime, Kindle, or etc.
They also have special promo codes for products to make it easier for you to sell certain products.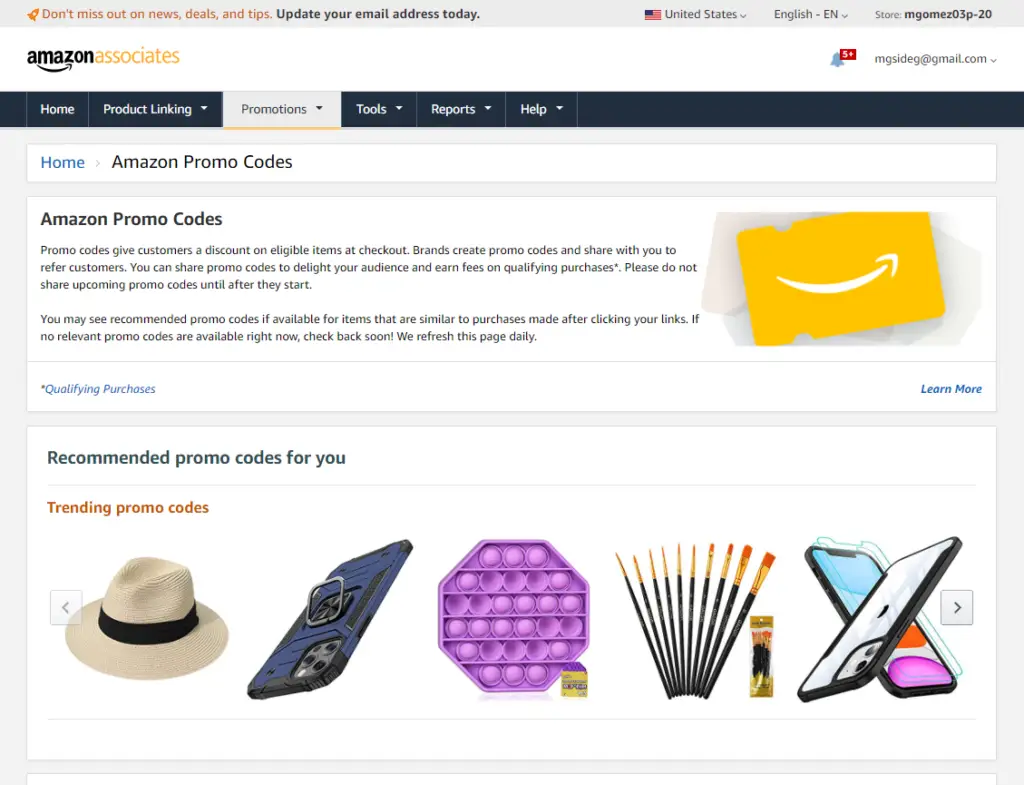 Step 11: You can begin to start selling any and every product available on Amazon.com by going to the Product Linking section and searching for products to promote or you can go to the main Amazon.com website and log in using your "Amazon Associate" account and promote specific products using the bar above the webpage.
Step 12: Once you've found a specific product that you want to sell, use one of the options circled in the picture below to do so. The text link is probably the easiest to use as the other two option require you to paste code directly into your website if you own one and that can be tricky if you don't know what you're doing.
Step 13: Click on one of the options to get a link that you can use on your website for people to click on to buy the product that your promoting.
Step 14: Place the link on your website in whatever content that you have that relates to it
EX. "The Infographic Guide to Personal Finance: A Visual Reference for Everything You Need to Know" is a great book that will help you get your finances in shape! In The Infographic Guide to Personal Finance, you will learn all the skills you need to make good financial decisions and grow your personal wealth. Full of colorful descriptions organized in an easy-to-read format. With the help of this guide, you'll learn how to make good investments, save for big things like a house or college tuition, budget, and more!
Click the link here to purchase your very own copy of the book! (insert text link here)
Please fill out our quick, anonymous brand survey to gain access to this hidden content. No personal or private information required!
What are the rules you need to follow in order to be an Amazon Affiliate?
Now, while it is relatively simple to join Amazon's affiliate program you do need to keep in mind that there are some rules that you need to follow else you'll be kicked out of the program.
Those rules are:
You need to make three qualifying sales within the first 180 days
You can't make the three sales by using them yourself or getting your friends or family to use them either
You can't give a "star rating" for any Amazon product. By that, I mean that you can't rate things 1-5 stars.
You're not allowed to use Amazon's own product pictures
You're not allowed to import customer reviews from Amazon
You're not allowed to use their links on sites that require a membership. They want any and all of their link to be readily accessible to the public
You can't use their links in emails so you can't use any mail list that you have to sell Amazon products
You can't use their links in any pdfs or ebooks
You can't use a third-party URL shortener, like bitly.com, to shorten Amazon's links. They have their own that you can use that they prefer because they want people to know that the link comes from Amazon
How To Join And Start Making Money From Amazon Affiliates!