Verizon Skills Forward Job Training Program!
What is the Verizon Skills Forward training program?
Most everybody knows of the cellular service company called Verizon. They are one of the biggest cellular companies in the world and the products and services they sell range from their regular cellular service to talk and connect to the internet to their FIOS home internet fiber service. However, one thing people probably don't know much about is that they partner with Generation USA in order to offer their own job training program called "Verizon Skills Forward".
The "Verizon Skills Forward" program is similar to the Interapt or Multiverse job training programs that are also mentioned in this blog. Similar to the aforementioned programs, Verizon's own training program is for jobs in the tech sector and the classes are available online. Most importantly, similar to Interapt and Multiverse, the Skills Forward program is 100% FREE to join!
Verizon's Skill Forward program is planning on training up to 500,000 workers for jobs in the tech sector of the job market by 2030. They've partnered with Generation USA and the City University of New York. The program has already been successful in the UK with graduates having already been placed in tech jobs in London, Birmingham, and more!
Working with these organizations allows Verizon to create a learning experience that uses practical, hands-on learning in an accelerated, online-first format. They will also assist you in finding jobs in full-time, internship, apprenticeship, or other opportunities.
What job opportunities does the Verizon Skills Forward program provide?
The specific job opportunities this training program offers you include:
Cybersecurity Analyst
As a cybersecurity analyst learn to monitor SIEM alerts and manage and configure security monitoring tools. As a Cybersecurity Analyst, you provide proactive defense of a company's digital and technology solutions against cyber security threats. You work closely with departments across the organization to ensure threats and vulnerabilities are remediated effectively.
Digital Executive Assistant
Digital Executive Assistants (DEA) provide administrative support to assigned consultants and partners by managing their schedules, emails, travel arrangements, and setting up their appointments. They plan, organize, coordinate, and control all administrative and operational procedures, activities, and documentation. DEAs also collaborate with other colleagues, clients, and external administrative assistants in creating a smooth workflow of ongoing tasks. The end goal of this function is to help consultants become more productive by organizing and leveraging their time effectively.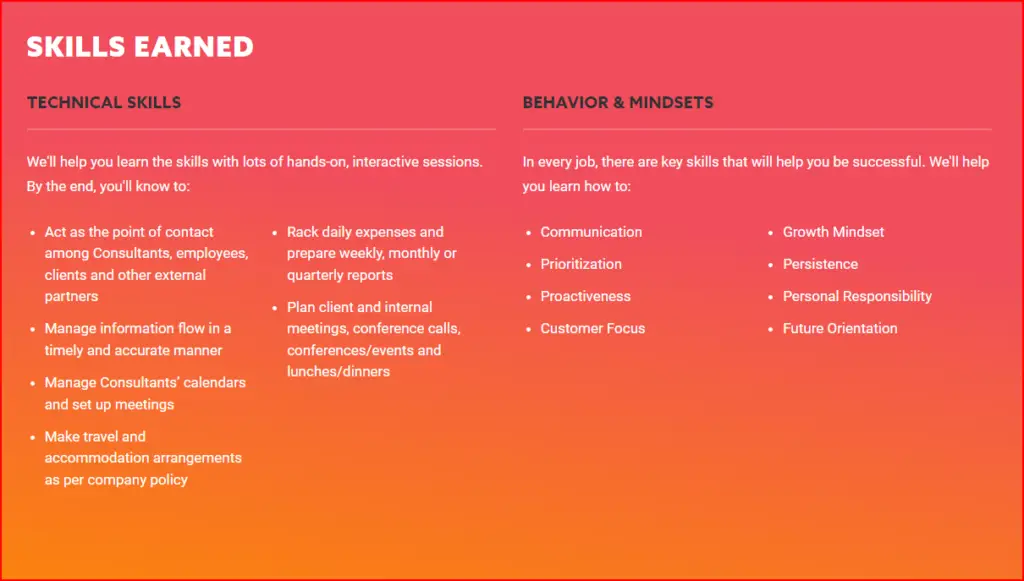 IT Support Specialist
IT Support Specialists keep technology running smoothly so that businesses can get the job done. As an IT Support Specialist, you'll turn technology frustrations into solutions, identifying issues and troubleshooting when one of your colleagues is having technical problems.
Junior Web Developer
A Junior Web Developer works with a team of developers to create new websites and applications. The "junior" designation means you work under the supervision of senior developers in your department, but you may be involved in all stages of the project, from brainstorming to final testing. As a Junior Web Developer, you review web design needs and preferences and provide advice on website maintenance.
Junior Full Stack Java Developer
A Junior Full Stack Java developer prepares you for a Junior Developer role, who often works within a team of developers to create new websites and applications. As an entry-level Junior Developer, you may work in tech-based startups, mid-large size software development companies, or consultancy firms, among others. This role generally performs the following tasks:
Develop solutions
Test & Finalize solutions
Fix errors
Coordinate / communicate with team and other stakeholders
Learning & Teaching new technologies and skills
Junior Cloud Practicioner
A Junior Cloud Practitioner performs the coding and software engineering that brings the architect's vision to life. They merge traditional programming skills with specialized knowledge in one or more of the leading cloud platforms' development environments to build, deploy and optimize cloud-based applications.
Digital Marketing Analyst
If you've ever gone on Facebook and seen posts from a brand you follow or searched something on Google and seen ads relevant to that search pop up, that's digital marketing! Digital marketers are responsible for connecting a brand with current or prospective customers in digital channels such as search engines, social media, email, and other websites.
These job training programs last anywhere from 4-21 weeks depending on which one you do. After completing these job training programs you will have earned some level of certification to prepare you for the job.
What are the admission requirements?
As mentioned before, these job training programs are free to join. However, there are some requirements that have to be met in order to participate in one of these programs.
Have earned a high school diploma or GED
Be 18 years or older at the start of the program
Available M-F, 9AM-5PM local time for in-class hours
If planning to pursue employment then the applicant must be authorized to work in the U.S.
Live in the U.S.A.
Laptop or chromebook with working camera
You will also need to have a computer/laptop that meets a certain level of specifications in order to do them. You can find these specifications on the page for each program. There is also potentially "technology assistance" for those who qualify.
How do you apply for the Verizon Skills Forward program?
There are six individual steps that you have to go through in order to participate in the Verizon Skills Forward program.
Step 1: Elegibility Questionaire – Begin by completing a questionnaire that will determine if you are eligible for each specific program.
Step 2: Apply – Apply for the program you are eligible for and complete all steps.
Step 3: Assessments – Complete applicable assessments. The assessments included Digital Literacy, Basic Literacy, and Logic.
Step 4: Interview – You'll be redirected to a 3rd party platform, HireVue, to complete a video interview. The interview helps them get to know you a bit more and allows you to tell them the things your application doesn't say.
Step 5: Admissions Review – Your complete application, assessments, and interview will be reviewed by an admissions counselor who will determine your eligibility. Next, you'll complete a support questionnaire. This helps them better understand specific needs.
Step 6: Admissions Decisions – You will be notified via email once a decision has been made regarding your admission and next steps.
How does the Verizon Skills Forward job training program work?
The classes this job training program offers are mostly online. You will be introduced to new topics which will be covered by instructors and teaching assistants. They will cover topics through a combination of lectures and live training.
You will then go through mentored exercises. Here, you can apply your understanding of these new topics by doing, and you'll have access to instructors and teaching assistants if/when you need guidance. On average, 75% of Generation programs are practice vs. instruction.
The programs also make sure you go through get some real-world experience on different projects and tools. By the end of this program, you will have gained more than 100 hours of training on a cyber range and other industry-standard tools.
They will give you some materials that you can use in order to keep learning with self-study. Whether you continue your journey with self-study or take the next steps to pursue a career, they'll give you personalized guidance on how to continue after the end of the program.