Rover – How To Make Money Walking/Babysitting Pets!
What is Rover?
Rover is a "side-gig" type of service that allows people to make money by walking or babysitting dogs. They act as a middle man that connects pet owners with pet caretakers in order to make finding someone to care for your pets easy and to help people make money doing so! Rover makes it easy to find someone locally to do things like boarding, house-sitting, drop-in visits, doggy daycare, and dog walking.
They operate and offer their services across all 50 states as well as several countries around the world!
The countries they do offer their services in include:
How to set up your Rover account!
In order to make money with Rover by caring for someone's pets, you have to sign up with them on their website or app in order to "become a sitter". In order to sign up in their app go to the "More" section and click on the option "Become a sitter"
In order to become a dog walker or provide other services on Rover, you must:
Be 18 years or older and live in an area where Rover operates.
Complete your profile and pass a background check.
Have the latest version of the Rover app (required for most services).
Live in a residence that allows pets (if you plan to care for dogs in your home).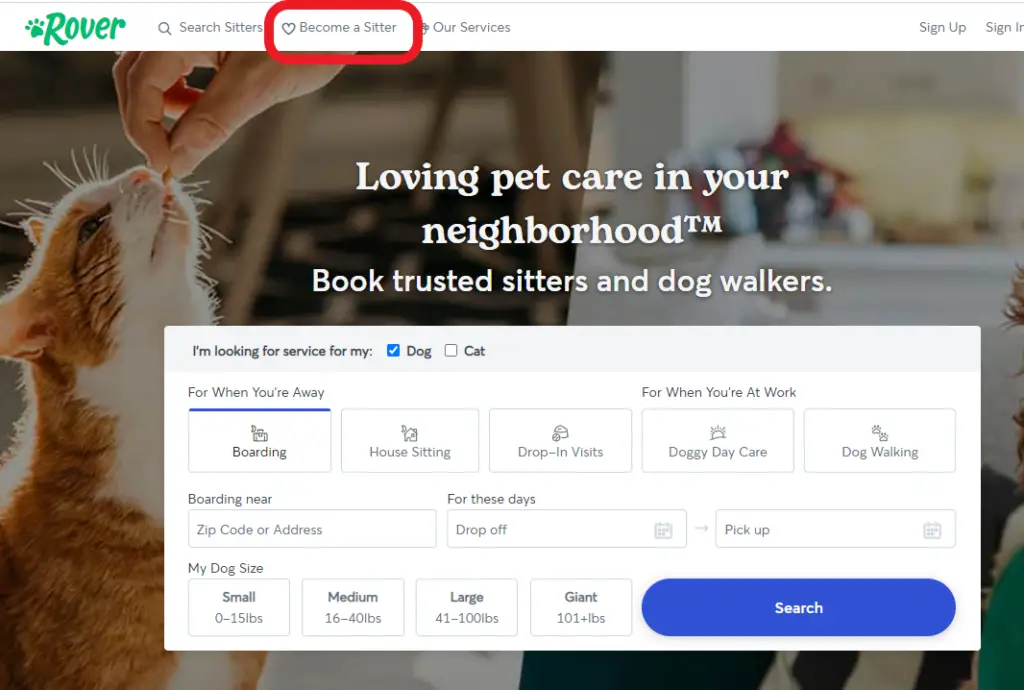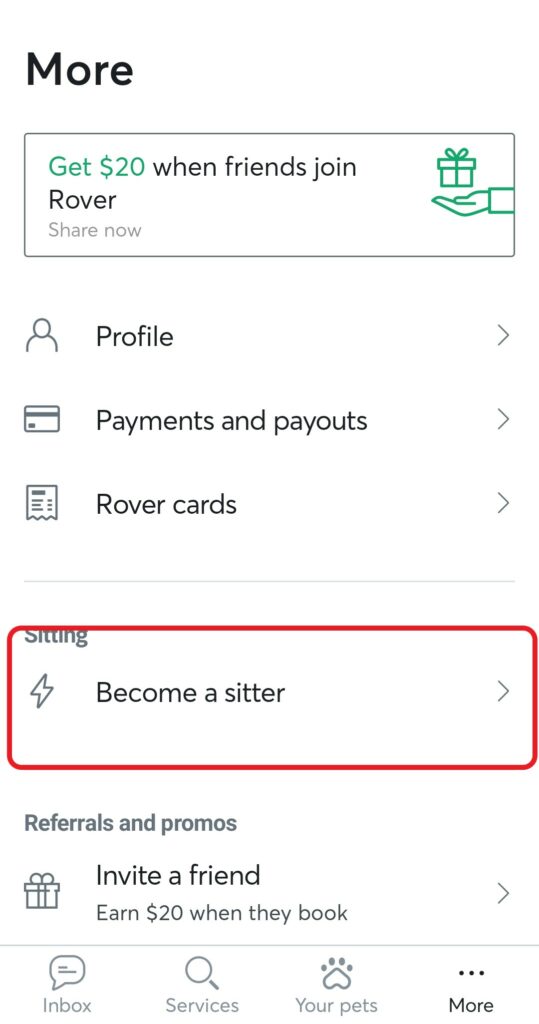 In order to get signed up with Rover, you have to do few things to get set up. First, you have to select which services you are interested in providing which include: overnight boarding, house-sitting, drop-in visits, doggy daycare, and dog walking. Then you have to provide some basic information about yourself like your name, phone number, and etc.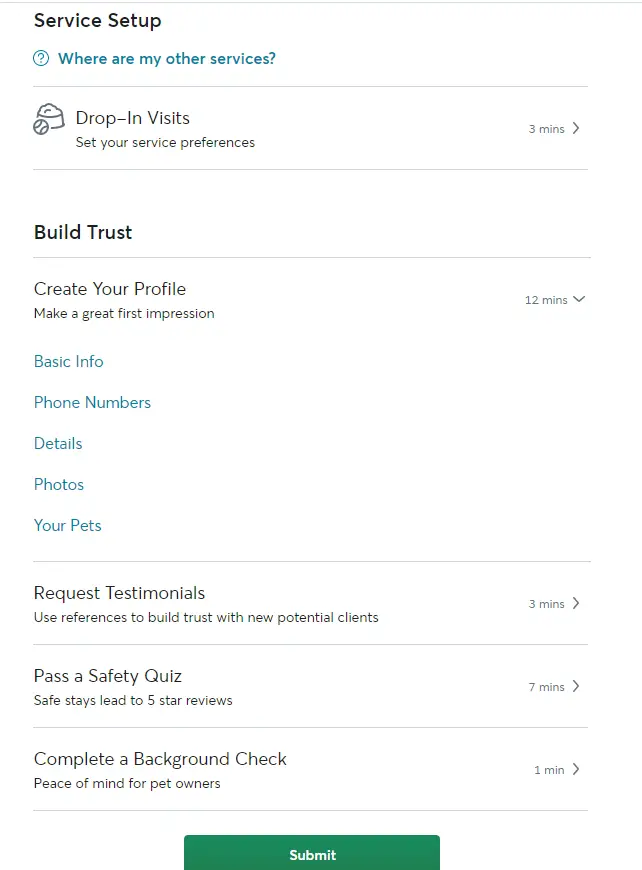 You can also do something like using references if you've ever done anything like this before, whether it was for free or not. You will be required to pass a safety quiz. The safety quiz is made up of 5 common sense questions about how to deal with clients and their pets. There's a video on top of each question dealing with the topic at hand that you can watch to see what the appropriate answer should be.
Another thing you'll have to do when setting up your account is taking a background check. When you do so, there are two options that you can choose from. There's the "basic" option which is $25 dollars and then there's the "enhanced option that costs $35 dollars and claims to allow you to stand out from the crowd by passing a noticeably more comprehensive background check.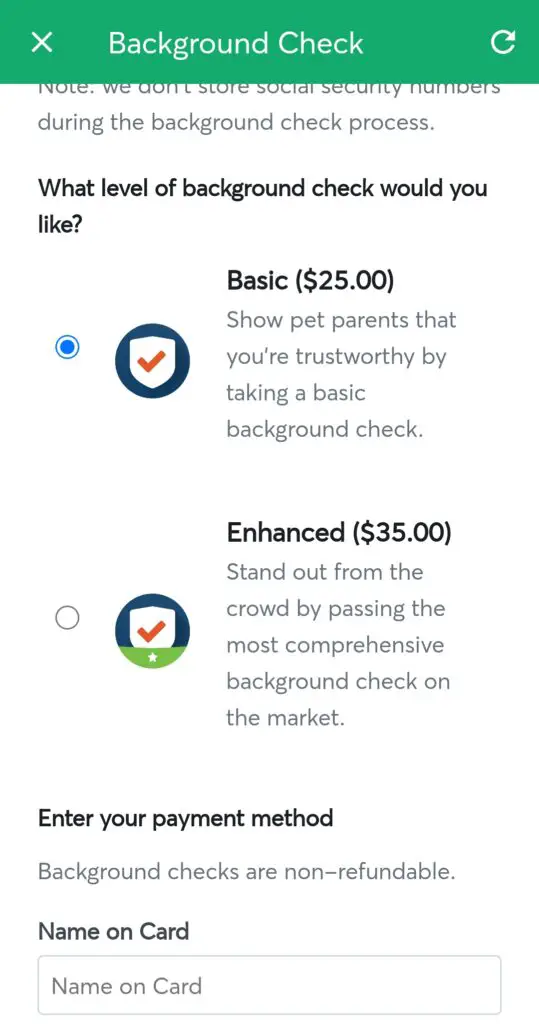 Once you've completed all of these steps it can take up to 10-20 days for them to review your application and after you're approved you can then get started by finding people on the app to offer your services and start making money!
Then you should be able to edit what services you offer and for how much (check other sitters in your neighborhood to get a feel for pricing), and update your calendar with your availability. After that, you set your own schedule and work as little or as much as you like!
Is Rover safe to use?
Rover is a very safe service for employees and more particularly for pet owners to use. They have a guarantee they like to call their Rover guarantee.
The Rover Guarantee reimburses members of their community for costs arising from certain injuries to the pet/s or resident/s pet that occur during a service booked and paid through Rover. It also includes 24/7 Support. The Rover guarantee covers vet expenses up to $25,000 in vet care. If you do ever need to file a claim with them you can do so using the steps listed on this page here.
Technically speaking they will cover vet costs AFTER the first $250 in expenses, though they do cover care for up to 30 days.
Here's a list of all of the things that their guarantee does cover:
Up to $25,000 in vet care reimbursement for eligible claims related to injury to either the pet owner's or sitter's pets.
Property damage to the pet owner's home caused by a sitter, dog walker, or groomer.
Certain out-of-pocket medical costs for 3rd party injuries (e.g. someone other than the pet owner, sitter, dog walker, or groomer).
Unfortunately, there are also some things that their guarantee doesn't cover, and here is the list of them:
Damages to the sitter's property or home.
Injury to sitters, dog walkers, and groomers.
Injuries to family members or roommates.
Vet care costs beyond 30 days.
Anything pre-existing or preventable such as fleas and ticks.
While there are unfortunately some things that the Rover guarantee doesn't cover, the items that they do cover along with their strict background checks done by their very own "sitting specialists" mean you and your pets can rest easy when using Rover.
How much money can you make by using Rover?
Rover estimates that people offering their services can earn about $1000 per month on average. This obviously depends on where you live and the demand for people offering Rover's types of services. With that said, Rover does take a 20% fee for every booking that you make so keep that in mind.