SurveyLock.me – How To Monetize Your Site Without Ads or Affiliate Links!
What is SurveyLock.me?
video from SurveyLock.me's Vimeo channel
SurveyLock.me is a new way of monetizing your WordPress website or blog other than the usual ones of placing ads or affiliate links inside your website. The way it works is you first sign up for their service at their website, SurveyLock.me. After you are approved by them to use their service they give you a unique publisher code that you put inside their WordPress plugin. Then, you place two different shortcodes inside the WordPress editor around any or all of your content in any individual one of your posts.
You can place them around a whole post or just part of one. When you do that, visitors to your blog who want to see the locked content are required to complete a survey in order to see it. SurveyLock.me partners with many well-known brands that are trying to collect some user data and pay you for all the surveys completed.
Every survey your visitors see will be 100% brand-safe and authentic, and will never ask for personally identifiable information. The companies doing the surveys want aggregate data, and not the individual data associated with any one particular user. Your visitor's private information is kept just that, private. It's only their opinion as a human being that matters.
[slm_content_lock]
Why use SurveyLock.me?
There are several reasons to use SurveyLock.me to monetize your website using only them or in conjunction with the other usual methods like ads or affiliate programs. SurveyLock.me claims that publishers using their service can make more with SurveyLock than through their traditional display ads, with most of them using a combination of the two to improve site experience while multiplying revenue by 1.5x, 2x, and even 3x!
This can allow for a better user experience since publishes don't necessarily need to place so many ads on their site. Since publishers don't have to place quite as many ads on their site this will also have the effect of improving their site's SEO since fewer ads mean faster loading times for pages.
If there is no survey available to be taken at a given time then the content will unlock automatically after pressing the unlock button. Visitors also won't have to take a survey at every single post you have on your site even if you do place them all over your site. Visitors will only be required to take 1 survey every 24 hour period. If they take a survey on one page then all the other locked content across your site will unlock for them.
How to be approved for SurveyLock.me!
After signing up for approval on their website, they advertise that it typically takes two days to get back to you with your unique publisher id. It technically took me a couple of weeks so don't be dismayed or discouraged if it takes a little while longer than they tell you. They are a relatively new service and still seem to be fixing some wrinkles with setting publishers up.
It also didn't help on my end when I tried signing up with them with two different email addresses and also did it around a national holiday so I would recommend not doing what I did. Regardless of how long it takes you to be approved feel free to email them at publishers@surveylock.me. In my experience, they are very, very good about getting back to you on the same day or at least the next business day, and they do a good job of clearly communicating to you about any issues that you might have!
Unfortunately, only WordPress blogs and websites have access to this service at this point in time. You must also apply for approval for every individual website that you own. If you try to use SurveyLock.me on an unapproved website, that will likely result in earnings not being paid and the possible suspension of your account.
According to their website, SurveyLock.me does not have any minimum traffic requirement, which is nice. They do however have some requirements for the types of websites that they will approve.
SurveyLock.me's approval requirements are:
They currently don't accept sites geared towards kids or teenagers. Their ideal audience is 18+.
They don't approve websites with illegal or obscene content
SurveyLock.me reserves the right to not approve any website they feel is unsuitable based on their own internal criteria. They also have the right to disable your account if you violate their terms of service or if they judge you are no longer a good fit. So try to have good quality, human traffic and do your best to follow the above guidelines for their approval.
How to integrate SurveyLock.me!
In order to monetize your website, you need to insert specific shortcodes in the pages you want to monetize.
Here are the steps on how to do it:
Step 1: Install the SurveyLockme WordPress plugin
Go to your WordPress admin page and select the "Plugins section

Click on the "Add New" button
Search for SurveyLock.me and install and activate the plugin (mine looks like that because it's already active)
Step 2: Activate your plugin by inserting your unique publisher ID as soon as they email it to you
Step 3: Make sure to set "Enable Testing Mode" and "Enable Content Integration" are set to Yes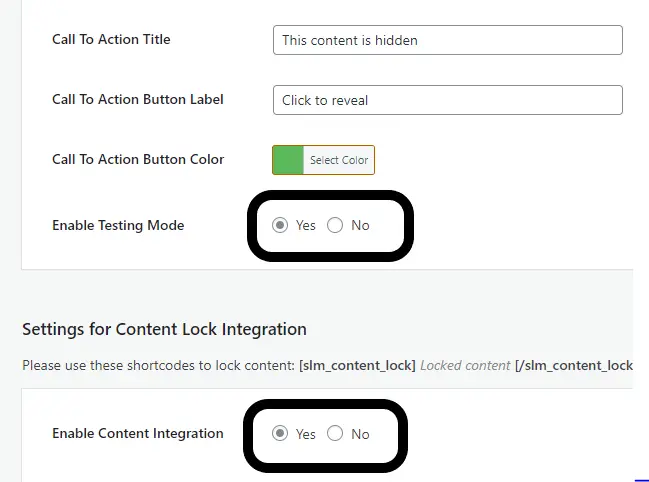 Step 4: Place the shortcode are the content that you want to lock away!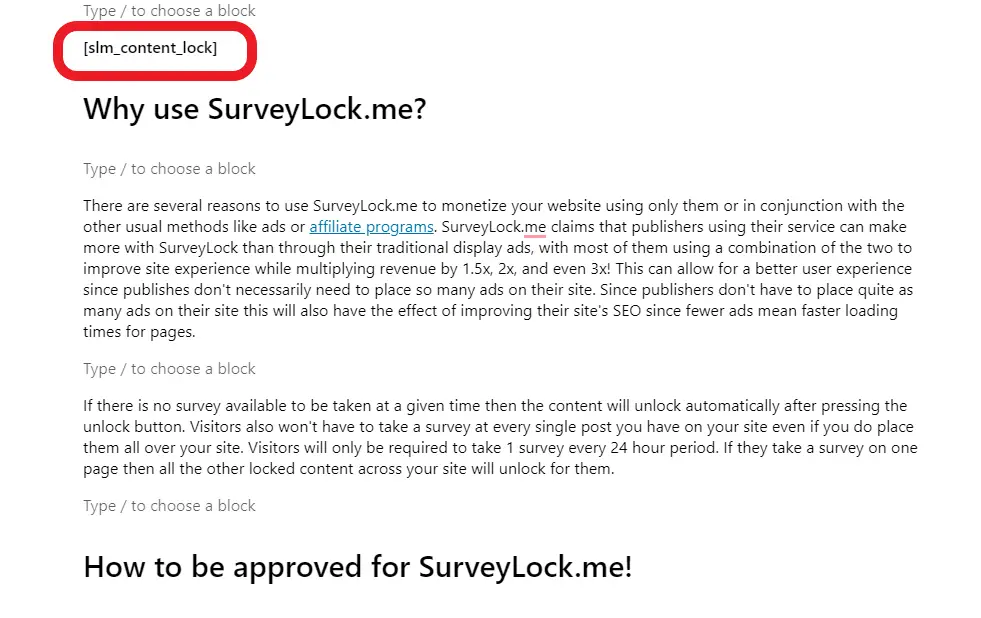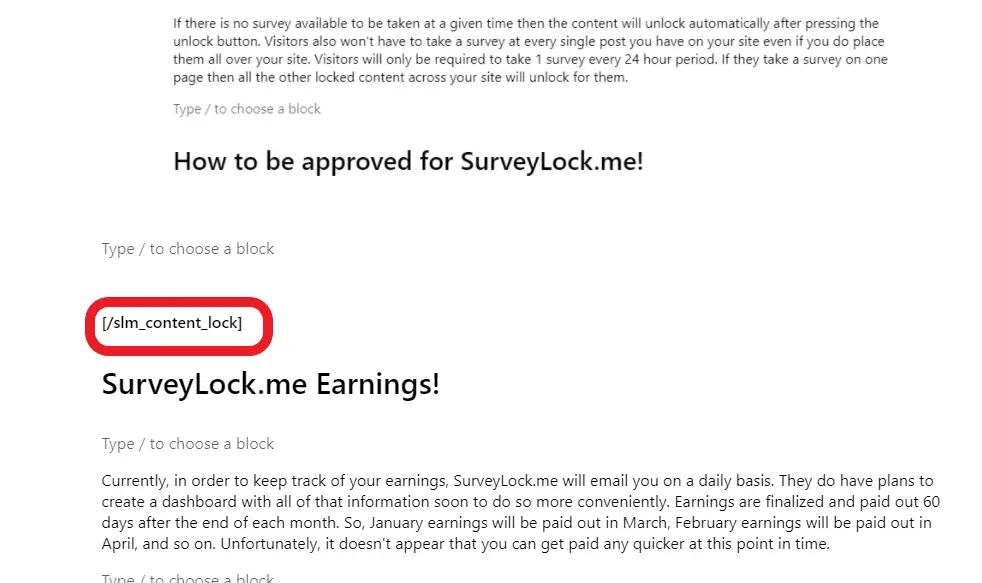 For any other questions about how to integrate SurveyLock.me visit their set-up page here or watch the video below.
video from SurveyLock.me's Vimeo channel
[/slm_content_lock]
SurveyLock.me Earnings!
Currently, in order to keep track of your earnings, SurveyLock.me will email you on a daily basis. They do have plans to create a dashboard with all of that information soon to do so more conveniently. Earnings are finalized and paid out 60 days after the end of each month. So, January earnings will be paid out in March, February earnings will be paid out in April, and so on. Unfortunately, it doesn't appear that you can get paid any quicker at this point in time.
Publishers have the options to be paid through PayPal or wire transfers. You need to earn at least $50 in a given month in order to get money through Paypal. You need to earn at least $500 dollars in a given month in order to be paid through a wire transfer. Any months where you don't meet the minimum requirements will be rolled over to the next month until you meet the minimum.