TheZebra.com – How To Find The Best Car Or Home Insurance!
What is Zebra?
Zebra is a price comparison tool that allows you to shop for and find the best deal on your car, home, renter, pet, life, and even small business insurance by allowing you to get quotes from multiple different companies at once. As of the time of writing this post, they have helped people with their insurance needs by producing almost 15,000,000 quotes since they were born in 2012.
How to use Zebra to find the best insurance for you!
The way to use get quotes that you can use to price shop is incredibly simple. All you have to do is go to their website or app to start the process of getting your quote. If you want to, you can also call an agent in order to talk you through getting your quotes and ask any questions.
[slm_content_lock]
First, you have to enter your zip code into the search bar on their home page and click the "Get my quote" in order to get started with the process of getting several quotes from companies like Nationwide, Progressive, Allstate, and etc.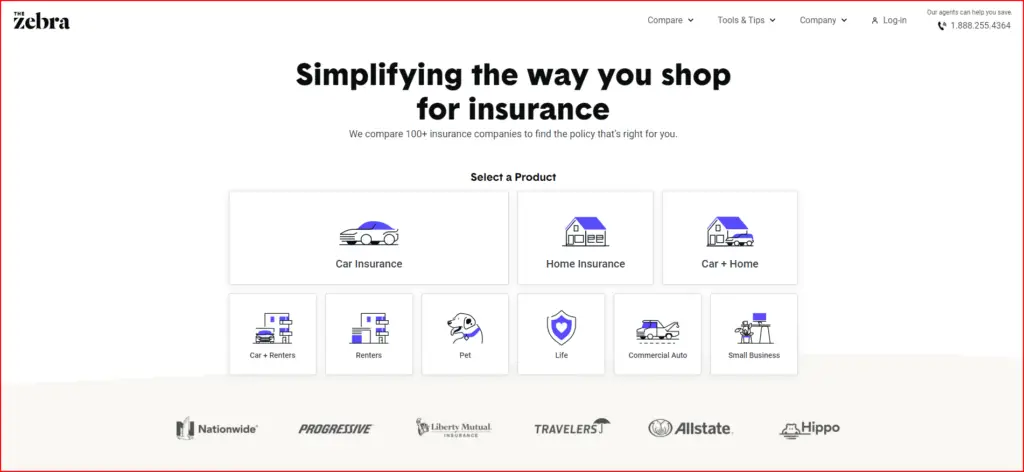 Then, you have to enter in some of your personal information about yourself and your car or housing in order for Zebra to provide you with the best quotes for you. You need to enter the information involving any current insurance provider if you have one. Then, you enter in the information about your vehicle/s or your housing. Finally, you need to enter in any information about the specific type of coverage that you want for yourself and your stuff.
After you're are done entering in all of your information Zebra will then start generating your own personalized quotes based on the information you provided. Some companies like Progressive will require that you enter in a bit more information before you can get a quote from them.
In order to be sure that you are getting all the coverage that you want and need you can click on the "view detail" button at the bottom of every one of the insurance plans. Then you can click on the tab that says "Coverage" which tells you all that the plan of each insurance provider covers for you.
If you want more coverage you can customize your plan (only for vehicles) using the "Change coverage" button in the top left corner of the page with all of the quotes.
When you customize your plan they offer several tiers of coverage that go from "minimum" to "basic" to "better" to "best". Below each of these tiers plans, Zebra shows you how much the insurance covers on average for a particular set of incidents.
The incidents that they show you for vehicles the coverage for includes:
Bodily injury
Collision
Property damage
Comprehensive coverage
Uninsured motorist
Personal injury protection
Towing and roadside assistance
Rental reimbursement
The things that they show you for housing coverage includes:
Dwelling coverage
Other structures – Ex. including things like sheds
Personal property
Personal liability
Medical expenses
Additional expenses
Your deductible
If you happen to not be ready to purchase any insurance just yet you can go ahead and send yourself a reminder using their reminder tool on their quote page. You can set the reminder for 3, 7, or 10 days later so that if you're still interested you won't forget about the quotes that you got from them and just get your insurance at a later point in time!
[/slm_content_lock]
Disclaimer: I am not any sort of investment or financial professional giving any sort of legal advice. I am just some guy trying to teach other people about how they might navigate the financial world.