Shopkick – How To Get Cashback From Groceries!
What is Shopkick?
Shopkick is an app that allows you to earn cashback from the groceries that you normally buy, similar to the Ibotta or Checkout51 cashback apps. There are actually four different ways that the Shopkick app allows you to earn cashback when grocery shopping.
How to use the Shopkick app to earn cashback!
In order to earn cashback, you have to earn what the app calls "kicks". These kicks can then be redeemed for gift cards from a wide range of stores that are delivered digitally to your phone. The stores that you can earn gift cards for include: AMC Theaters, Best Buy, Paypal, Amazon, Apple, Starbucks, Target, and more!
There are a huge number of different stores that you can go to that will allow you to get kicks that can go to your redemptions.
The stores that you can go to earn kicks include all of these and many more in the categories of home decor, women's clothes, men's clothes, kid's stuff, electronics, beauty, fitness, cooking, and travel:
Walgreens
Walmart
CVS
Casey's
Whole Foods
Aldis, PetSmart
Target
Ulta
Albertson's
American Eagle
Brighton Collectibles
Carter's
Costco
Ebay
Giant Eagle
Groupon
H&M
HomeGoods
Kohl's
Krogers
Lowe's
Marshall's
Meijer
Oshkosh
Publix
Safeway
Sam's Club
Stop and Shop
Home Depot
TJ Maxx
Yankee Candle
Big Lots
Old Navy
Bed, Bath, and Beyond
DSW
Overstock
JCPenny
Zuliliy
HSN
1-800-Baskets
AC Lens
Acadamey Sports
Advance Auto Parts
Aldo
Backcountry
Banana Republic
BarkBox
Belk
Booking.com
Burger King
Calm
Cheryl's
Disney+
ESPN+
Express
Famous Dave's
Fanatics
Fandango
Finish Line
Gamestop
What are the different ways you can earn kicks with Shopkick!
You can earn money from "walk-ins", meaning that you can earn cashback just from visiting a store!
You can earn cashback from "scans", meaning that you can earn money by using the app to scan the bar codes of certain products even if you don't buy them!
You can earn money in a manner similar to the Ibotta app, by scanning your receipt to earn cashback on eligible items or shopping online by doing it through their app!
You can also earn cashback by linking store cards to the app so that when you purchase items the app automatically finds items eligble for cashback and credits your account!
In order to earn cashback from walk-ins, you have to make sure that the app is open at the store entrance or a particular department. You also need to make sure that Location services are enabled on your phone. When the app detects your location it will automatically credit your account with kicks
When looking to earn kicks from a certain store you have to look it up in the app. When you find the store it will show you the particular options they have to earn kicks with them. Not all stores will allow you to earn kicks in all of the different ways the app allows. Some stores will not offer kicks for walk-ins and some stores won't offer kicks for scanning certain items. So when using Shopkick to get cashback, make sure to check the app for all of the different ways you are allowed to earn kicks at that store!
When shopping for items at a certain store you can actually earn kicks by either scanning the item or by buying it and scanning the receipt. That way you have the convenience of earning kicks in one way or the other without having to bother buying the item, and if you do buy an item you can actually do both actions or scanning the bar code and the receipt to earn kick for both ways. Just so you know a fair amount of items offer the same amount of kicks regardless of which way you earn it, but some items do earn more kicks when you buy the item versus when you just scan the bar code.
In order to earn kicks from scanning the bar code just press the "Scan" button for that particular item and then point your camera to the bar code.
In order to earn kicks by submitting a receipt after purchasing an item just press the "Submit Receipt" button. Then press the "Claim X amount of Kicks" button for any and all of the items you are redeeming kicks for. Then similar to the Ibotta or the Checkout51 apps, just take a picture of the receipt to get credit for the items!
How to redeem kicks for free gift cards!
Whenever you've earned enough kicks to redeem them for gift cards, all you have to do is go to the app and press the counter on top of the main page that tells you how many kicks you have. In the "Kicks Center," you should be able to see what company's gift card you currently have set as your goal and how many kicks you have left to reach the goal of earning it.
If you want to change the gift card you redeem, simply press the "Rewards Option" button and select any of the myriads of gift card options in order to get that one once you've earned enough kicks. You even have the option to change the dollar amount you want to earn for a specific gift card. You can lower the amount and the gift cards will be worth less but you won't need to earn as many kicks.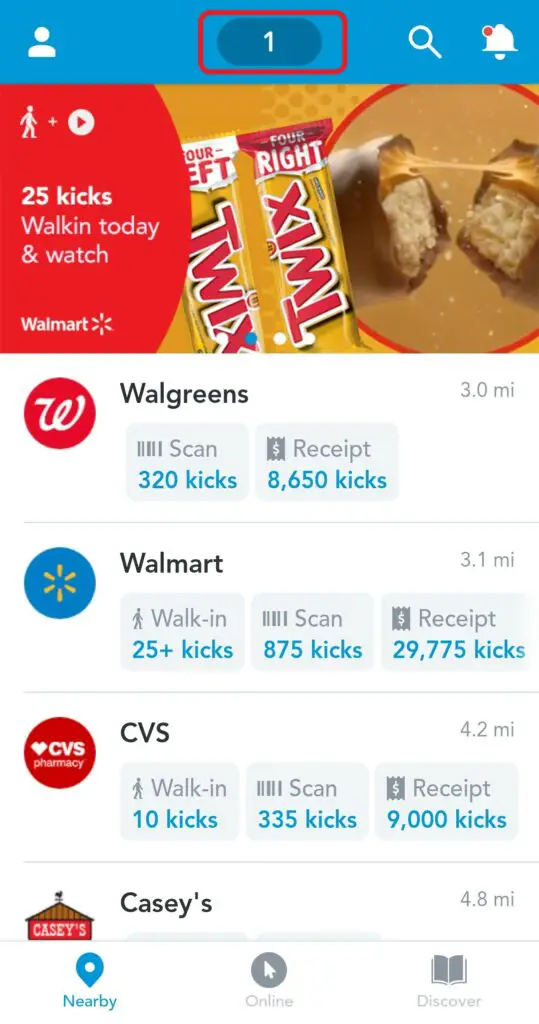 image from the Shopkick app with the "kick counter" that you need to press to redeem them circled
image of Shopkick app "Kicks Center" with the Walmart gift card selected and the "Rewards Options" that you need to press to change the gift card rewarded circled in red
image from the Shopkick app of just a few of the options for free gift cards that can be redeemed in the app
image from the Shopkick app showing the Walmart gift card with the $2 dollar gift card selected, and the option to choose a $5, $25, and $50 gift cards instead
Here's a review from Logan Allen's YouTube channel talking about how Shopkick works and demonstrating all the ways to earn kicks(except with linked cards), as well as a video from Penny Hoarder's YouTube Channel about a woman who earned $1200 from Shopkick.