M1 Finance Adds New Features Like Mobile Wallets And Dividend Monitoring!
What is M1 Finance!
M1 Finance is an investment brokerage that offers investment and banking services. The unique thing about M1 Finance is that they were one of the first brokerages to offer both commission-free and fractional shares on any stock listed in the US stock market. They did have predecessors like the investment brokerages Stash and Robinhood that really started and popularized the investment trend of commission-free trades, started by Robinhood, and fractional shares, started by Stash. Technically, Stash also had commission-free trades, but they also charge a monthly fee for their accounts, so I'm not counting it as entirely free.
M1 Finance's New Features!
M1 Spend Mobile Wallet
Recently, M1 Finance added some new features to make life better and more convenient for their users. One set of new features they added is the ability to be added their M1 Spend card to mobile wallets. Mobile wallets are digital wallets that people can use to store information for one or more debit or credit cards on your phone so that you can use your phone to pay for items without needing the physical card itself.
M1 Finance has given the ability for users to add their M1 Spend debit card to mobile wallets like Apple Pay, Samsung Pay, and Google Pay. All you need to do is add the information off of your card into the mobile wallet app, and then you can start spending money just using your phone that you can just tap against register/card readers that allow for a "contactless option". If you don't know which registers allow for this option, just check to see if they have the symbol below anywhere on them. If they do, then you can use contactless payment options.
How to add your M1 Spend Card to a Mobile Wallet!
Adding your M1 Spend card is particularly easy. I will show you the steps below in order to do that. I have an android phone, so I won't be able to the steps to add it to Apple Pay. But, I will go over how to add it to Samsung and Google Pay and the steps should be mostly the same.
Step 1: Open the mobile wallet app of your choice!
Step 2: Enter your M1 Spend debit card information into the mobile wallet of your choice! You can enter the information manually or use the in-built camera feature mobile wallet apps usually have to do it for you!
Step 3: After adding the card, simply go to the app and select your M1 Spend card whenever you want to use it for contactless payment!
M1 Finance Dividend History
M1 Finance has also added a new feature where they allow you to check the dividend history of your pies. You can check the dividend history of the whole pie, your "pie slices", or just for each individual stock in your portfolio. In order to view your dividend history simply open up the app and go to one of your pies.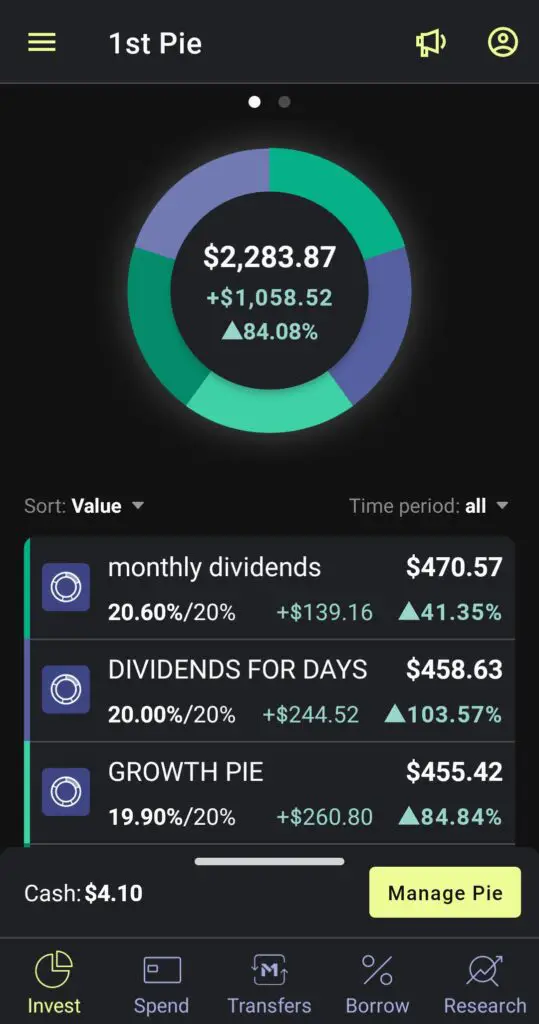 Next, swipe to your right and go down to the "Total Gains" section. In this section, you will see "Earned dividends" in the list. Click on the "view button in order to see your dividend history.
From there, depending on if you're looking at all of your pie, you will be able to see the total amount of dividends earned for each slice. If you are looking at a specific slice then you will be able to see the dividend history of all the stocks in that one slice. If you look at one individual stock, you won't see the option for the dividend history. It will just show you the history of that one particular stock.
Note: The history of dividends from these stocks do not match the pie slice history because I have changed out the stock kept in it over time, and it, unfortunately, doesn't reflect that.
Note: This page contains affiliate links that will, at no cost to you, earn me a commission. You are in no way obligated to click on the links!
Disclaimer: I am not any sort of investment or financial professional giving any sort of legal advice. I'm just some guy trying to teach other people about how they might navigate the financial world.
Click on the link here to invest with M1 Finance! https://m1finance.8bxp97.net/4edv5o