Discover – The Online Bank With a 1% Cashback Debit Card!
What is Discover?
Most people only know Discover as a credit card company. They offer cards like their cash back credit card, which allows you to earn 5% cashback on quarterly rotating categories on things like gas, groceries, and etc., and at the end of your first year using the card they match the cashback 100%. They also offer their own secured card, travel card, a couple of student cards, and more.
However, did you also know that Discover also offers its own checking and savings accounts that you can use with them. Their checking account allows to earn 1% cash back on all purchases made with your debit card and has no monthly fees! The cash back that you can earn with a Discover debit card allows your to earn 1% back on all purchases up to $3000 each month.
What are the benefits of Discover's checking account?
When you use Discover's checking account you pay none of the usual fees you get with a fair amount of other banks today which include no monthly or maintenance fees. When you bank with Discover you get access to over 60,000 fee-free ATMs. There are also none of the other fees banks might usually charge like replacement card fees, online bill payment fees, account closure fees, and others.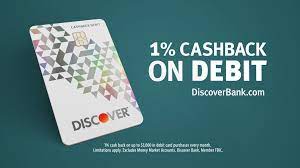 Here's a list of all the fees the you DON'T PAY when you bank with Discover:
No monthly maintenance fees
No minimum balance fees
No ATM fees at over 60,000 ATMs nationwide
No replacement debit card fees
No expedited debit card replacement fees
No check fees
No online bill payment fees
No expedited check delivery fees
No deposited item returned fees
No stop payment order fees
No insufficient funds fees
No account closure fees
Similar to online banks like Sofi or Chime, Discover works with the payment processor Zelle to allow discover customers to easily send and receive money from almost any bank account in the United States. You can use Zelle to easily send money to any friends or family. Zelle doesn't share any of your bank account information. Best of all there are no fees charged by either Discover or Zelle to send or receive money using their service.
Discover checking accounts also offer some other neat features that you can use to make your life easier:
You can freeze your debit card from Discover's app which means that even if you temporarliy lose your debit card you can rest assured that no one will be able to use it in order to drain your bank account of money
The Discover app also has the ability to help you find any of the 60,000+ fee free ATMs you have access to with an in-built map.
They also offer mobile check deposit
What are the benefits of Discover's Savings accounts?
Discover also offers their own savings account that offers 0.40% APY on the money you keep with them. The interest in your savings account compounds daily and is paid out monthly. Similar to their checking account Discover also charges very few of the fees that you would normally have to pay when using the savings account of some other banks like monthly fees. There are also no requirements for a minimum deposit when you open a Discover savings account.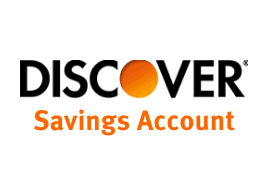 Here's a list of all of the benefits the you get when you use Discover's own savings account:
0.40% APY in interest earned on your savings (Note: This interst rate is subject to change at any time)
The interest your money earns in your account compounds daily and is paid out monthly
No monthly fees
No insufficient funds fees
No minimum deposit to open your account
Want to earn up to 5% cash back on rotating categories of the purchases you make every day? Click on the button below to sign up for Discover's cashback credit card.