Aspiration – The Environmentally Sustainable Bank!
What is Aspiration?
Aspiration is an online bank that that provides many of the usual products provided by banks like checking accounts, savings accounts, investment, and credit cards. They are also a bank that focuses very, very, heavily on saving the planet with the way they do business. Whenever you spend money with Aspiration you contribute to the number of trees grown by them per year which helps to offset the carbon footprint of the number of miles driven by cars per year.
They also donate to charitable causes that go towards helping things like poverty, areas lacking water, education, saving the environment, providing healthcare to people who don't have access to any, human rights, and an opportunity fund that provides for microloans of $5,000 and less as well as mentorship and support to struggling Americans looking to start a new small business that will provide for a better life for themselves and their families.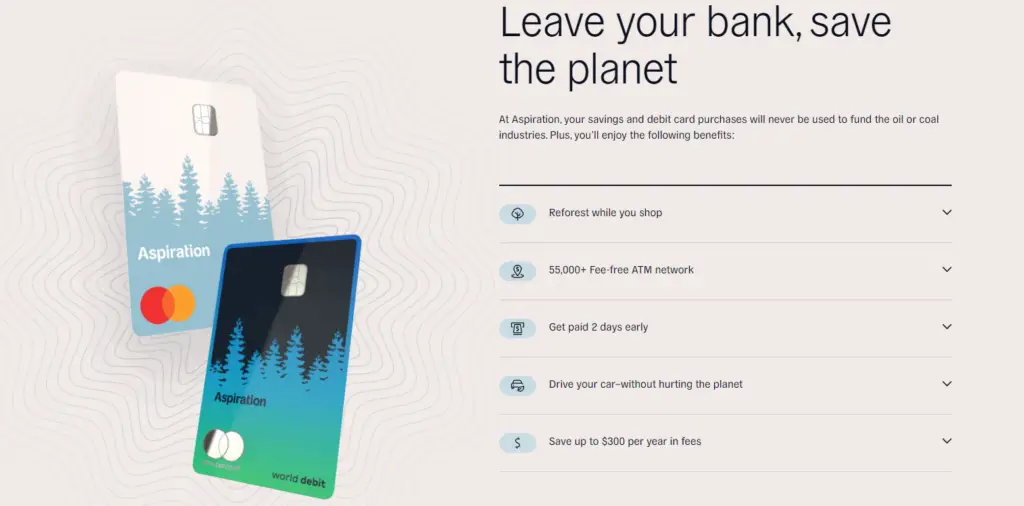 Aspiration Checking and Savings
Aspiration provides both checking and savings accounts. There are actually two tiers of plans to open a checking account with Aspiration. They have their regular Aspiration Spending Account and their Aspiration Plus Spending Account.
Some benefits of the regular Spending Account:
Allows you to pay whatever you think is fair (even if that's $0)
Access to $55,000 fee free in-network ATMs
3-5% cashback on "Consience Coalition" purchases
A "personal impact" score so that you can see how much your shopping helps the environment
Round-up features to help you save your spare change on every purchase and have Aspiration plant a tree every time you do
Some benefits of the Plus Spending Account:
Deposits won't fund fossil fuel exploration or production
55,000 free in-network ATMs
10% cash back on "Conscience Coalition" purchases
Personal impact score to help you shop to match your values
Round-up features to help you save your spare change on every purchase and have Aspiration plant a tree every time you do
Up to 1.00% APY on your savings
One out-of-network ATM reimbursement monthly
Carbon offsets for all your gas purchases with Planet Protection (Aspiration's Planet Protectio feature tallies up the carbon output of all of your gas purchases, then automatically buys offsets to help counter the climate impact)
Aspiration Investment Accounts
Aspiration also provides two different investment accounts to its customers. One is a taxable investment account called the "Redwood Fund".and the other is a traditional IRA called the "Redwood IRA".
Some of the benefits of opening and investing in a "Redwood Fund" account are:
Only requires a $10 minimum deposit
Open to all new investors
It only invest in fossil fuel free companies with sustainable environmental and employee practices
No front load fees
No back load fees
No trading fees
No performance fees
No redemption fees
Some of the benefits of opening and investing in a "Redwood IRA" are:
$10.00 minimum opening deposit
Tax deferred growth
Access to a traditional IRA
No front load fees
No back load fees
No per transaction fees
No performance fees
No redemption fees
Aspiration Credit Card
Aspiration also has plans to release its own credit card. Similar to the debit card they offer you will be able to help save the planet with every swipe of your card since they will plant a tree every time that you do so. The card hasn't been released just yet, but you can sign up to be on the waiting list here.
Some of the perks they plan to offer with their credit card are:
They plant a tree every time you make a purchase — and let you plant one too.
Track your progress each month in the app to eradicate your footprint.
Every month you get to carbon zero, they'll reward you with cash back up to 1% on all of your purchases.
What are the fees that Aspiration charges?
Although Aspiration is mostly free to use they do charge a few fees. They do charge you for "extra services" like wire transfers. However, when it comes to these fees Aspiration commits to providing them "At Cost" meaning they will only charge as much as it costs for them to provide the service to you. There are also a few fees when investing with them.
They don't get a penny of these (although some may be passed through them to make these payments easier) and they negotiate them down and subsidize them, so they're less of a burden. Aside from the Plus account fees, their checking accounts do not charge any fees whatsoever. When they say they offer their regular account for entirely FREE they mean it.
Disclaimer: I am not any sort of investment or financial professional giving any sort of legal advice. I'm just some guy trying to teach other people about how they might navigate the financial world.